BJP MLA Akash Vijayvargiya arrested for attacking a govt official
Akash Vijayvargiya is the son of BJP general secretary Kailash Vijayvargiya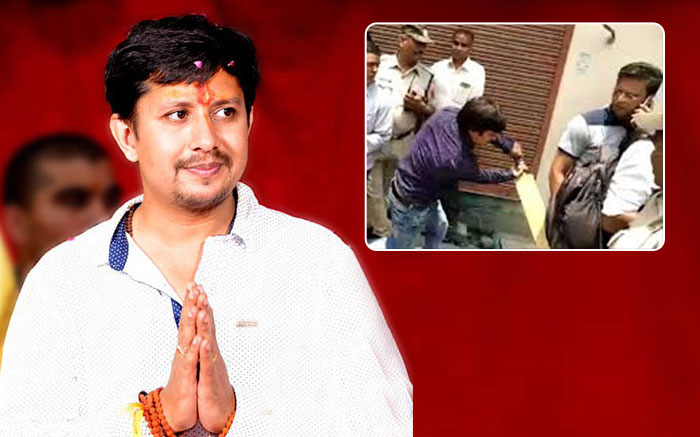 BJP general secretary Kailash Vijayvargiya's son Akash Vijayvargiya, who is also an MLA attacked a Municipal Corporation zonal officer, Dheeraj Bais with a cricket bat in Indore today. The video has gone viral on the internet where we see Akash beating the members of the anti-encroachment team who came to demolish the building of one of his supporters. The incident took place in the Ganji Compound locality. The supporters of the MLA also vandalised the windshield of the officials of Municipal Corporation. The matter was later controlled after the police arrived.
#WATCH Madhya Pradesh: Akash Vijayvargiya, BJP MLA and son of senior BJP leader Kailash Vijayvargiya, thrashes a Municipal Corporation officer with a cricket bat, in Indore. The officers were in the area for an anti-encroachment drive. pic.twitter.com/AG4MfP6xu0

— ANI (@ANI) June 26, 2019
"I had already brought this it in notice of IMC authorities and requested them to not to take action against the building, but they did not listen to my request, and sent a team to demolish the building. As I came to know about it, I reached the spot and tried to explain the issue to the concerned zonal officer, but he did not listen to me, and then I lost my patience," said Vijayavargiya.
But what shocked us that Akash didn't remember what he did. "I don't remember what I did to him. There were women in the building and the male staff of IMC were pushing them out of the building." (Input: TOI)
Now, as reported by news agency ANI, Akash Vijayvargiya told, "This is just the beginning, we will end this corruption & goondaism. 'Aavedan, nivedan aur fir dana dan' this is our line of action."
A case has been registered against Akash Vijayvargiya and ten others for the act.
Also Read: Watch: BJP MLA Greeted With Garland Of Shoes In Poll Bound Madhya Pradesh