Watch: BJP MLA greeted with garland of shoes in poll bound Madhya Pradesh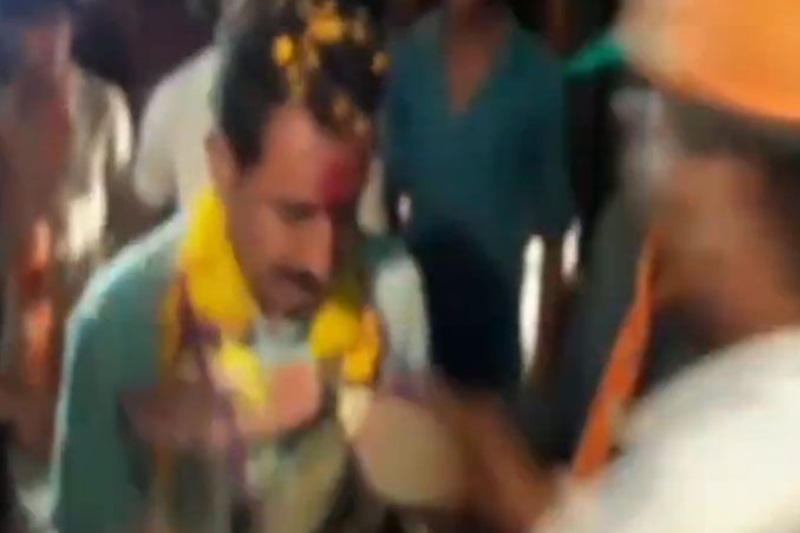 In what was an embarrassing welcome, A BJP candidate in poll-bound Nagada constituency of Madhya Pradesh was greeted with a garland of shoes while he was campaigning there on Monday, ahead of the upcoming state assembly elections in the state.
The incident occurred when Dilip Shekhawat, a BJP MLA from the Khachrod area of Nagada constituency was campaigning for the upcoming polls in the constituency. Shekhawat had apparently gone there as part of 'Jansampark' (connecting with people) campaign when a man approached him and quickly put the outrageous garland around his neck. A video of the same has gone viral on social media.
#WATCH: A man greets BJP MLA and candidate Dilip Shekhawat with
a garland of shoes in Madhya Pradesh's Nagada. (19.11.2018) pic.twitter.com/LmYMAaP8Me

— ANI (@ANI) November 20, 2018

In the video, Shekhawat can be seen talking to people in the crowd that had gathered around him. With folded hands, the BJP leader is seen requesting the people to vote and continue their trust on his party's government when a man – wearing a BJP cap – emerges from the crowd and adorns the MLA with a garland of shoes, leaving him shell-shocked.
Furious with the man's actions, Shekhawat and his followers soon started beating the man up violently even as some onlookers try to stop them.
Interestingly, Shekhawat is the ruling MLA from that same constituency and was preaching to remain in power.
This, however, isn't the first time such an incident has occurred in the state. Earlier during the civic polls in January, a similar incident took place where BJP candidate, Dhar Dhamnod, was greeted with a garland of shoes by an elderly man while he was campaigning for the elections.
"They are one of my own. There must have been something which upset him & he acted like that. We will sit together and talk. I am like their child," the BJP leader was quoted as saying by Times Now following the incident.
Madhya Pradesh goes to polls on November 28, while the results will be declared on December 11.
Also Read: BJP-RSS know it very well that it won't win in 2019: Rahul Gandhi