BJP social media team goofs up yet again, invites trolls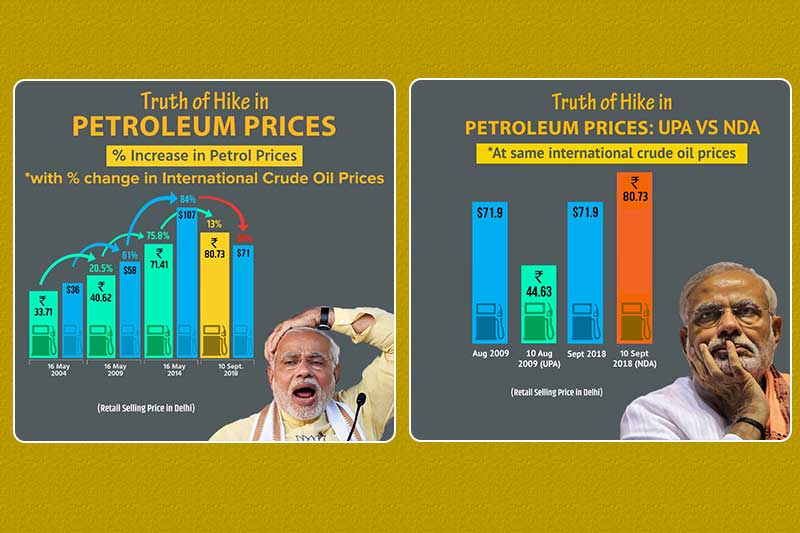 The ruling Bharatiya Janata Party on Monday tweeted few graphics on how the Union government has put their effort in decreasing the prices of petrol and diesel in the country. In the graphic, the BJP had made comparisons with the previous Manmohan Singh regime. Minutes later, the Congress party trolled the BJP for their peculiar tweets.
Questioning the statistics and the representation, the Congress wanted to know on why was the graph showing a hike in fuel prices shorter than the graph of UPA tenure! The graph shows the rate of increase has dropped from 75.8 percent to 13 per cent, the BJP's bar at Rs. 80.73 is shorter than the Congress's at Rs. 71.41.
Let's take a look at some of the tweets:
The Twitterverse sure can be creative at times. A few of our favourite takes on BJP's fuel graphs. pic.twitter.com/j9LYCXCsJc

— Congress (@INCIndia) September 11, 2018
— Congress (@INCIndia) September 11, 2018
— Congress (@INCIndia) September 11, 2018
— Congress (@INCIndia) September 11, 2018
— Congress (@INCIndia) September 11, 2018
— Congress (@INCIndia) September 11, 2018
ALSO READ: Bharat Bandh: BJP justifies rising fuel prices, blames it on oil producers