Amit Shah's Sabarimala team to visit Kerala as state announces 'million women wall'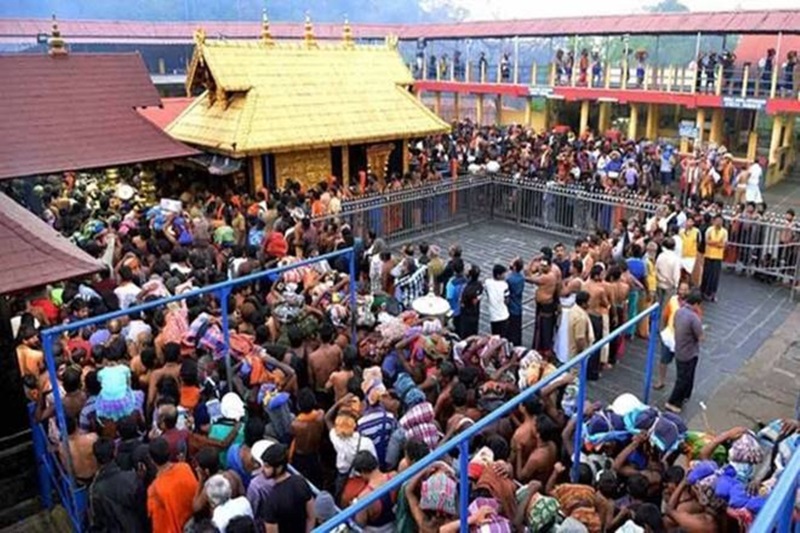 A team of Bharatiya Janata Party (BJP) is likely to visit Kerala on Sunday to meet workers in connection with Sabarimala row. The team is reported to have picked up by BJP chief Amit Shah.
The four-member team include Saroj Pandey, Vinod Sonkar, Pralhad Joshi and Nalin Kumar Kateel, who will submit their report to Amit Shah in 15 days, the party said in a statement. They are expected to meet the Pandalam royal family, which traditionally is said to have shared a strong bond with Lord Ayyappa.
In last week, a large number of BJP and RSS workers had staged protests outside the residence of Kerala Chief Minister Pinarayi Vijayan against the detention of more than 30 people at Sabarimala Temple.
Besides Vijaya's residence, the protests were also held at different places across the state including Aranmula, Kochi, Kollam, Alapuzha, Ranni, Thodupuzha, Kaladi, Malappuram and Idukki.
On Wednesday, Kerala Chief Minister Pinarayi Vijayan said that Sabarimala "won't be allowed to become an Ayodhya." As the Kerala Assembly session has started, legislators from the Congress-led opposition came with placards and banners demanding that the section 144 in the temple town be lifted.
During the entire question hour, the opposition shouted slogans and within 20 minutes the session had to be adjourned.
"We are bound to adhere to the Supreme Court ruling even as the Sangh Parivar with the support of the Congress is out to create trouble at Sabarimala," the Chief Minister said.
Kerala CM, in an attempt to garner support after the protests by right-wing groups over the entry of women of all ages to the Hindu shrine, said a "women wall" would be formed on January 1, from the northern district of Kasargode to the state capital, vowing support to the state government's stand.
Taking to Twitter, Thomas Isaac, the number two in the Kerala cabinet tweeted, "Great Wall of Kerala, to prevent the state from sliding back into medieval madness, is going to be raised by a million women from one end of Kerala to the other on New Years Day…Come join the Resistance…"
"The hashtag of the 'women wall' would not be to turn Kerala into a lunatic asylum. At the meeting, organisations have pledged their support to the state government on the stand taken by us on the Sabarimala issue," said Vijayan on Saturday, adding political parties can also send their women cadre.
Also read: Sabarimala row: Three arrested for stopping two women advancing towards Lord Ayyappa temple