Sabarimala row: Three arrested for stopping two women advancing towards Lord Ayyappa temple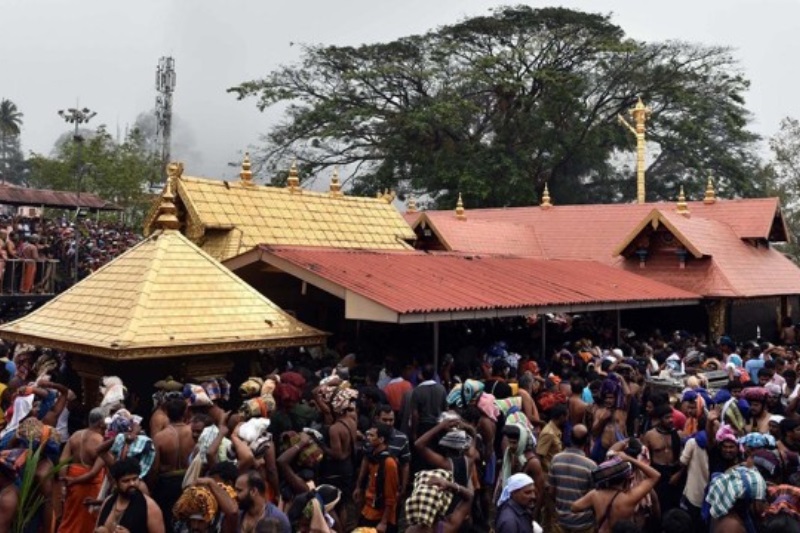 At least three men were arrested by Kerala police on Saturday for stopping two women advancing towards the Lord Ayyappa temple as they were from the banned age group of 10-50. One of the devotees was 28-years-old while the other was 42.
Notably, the protest erupted immediately after the devotees realised that the three women hailing from Andhra Pradesh were trying to enter the Lord Ayyappa temple. The protesters stopped women which prompted the Kerala Police to arrest three men. All the three arrested hailed from nearby Ranni.
In a statement, the police said they were not informed by these devotees before their ascent to the hilltop shrine as then they would have provided the required security.
It is to be noted that so far 14 women have had to return without praying at the shrine even after a court order allowed their entry to Sabarimala.
After the judgement, Kerala witnessed massive protests by Lord Ayyappa devotees opposing the entry of girls and women of menstrual age into the Sabarimala temple since the government decided to implement the Supreme Court order.
Over 3,000 people were arrested for creating a ruckus over the issue and over 500 people have been chargesheeted by the police for violence. So far, no woman in the age group of 10-50 years has yet been able to visit Sabarimala temple since the top court's order.
Also Read: Sabarimala row: Fresh protests break out; around 70 arrested