BJP's jibe at Rahul Gandhi yet again hits a roadblock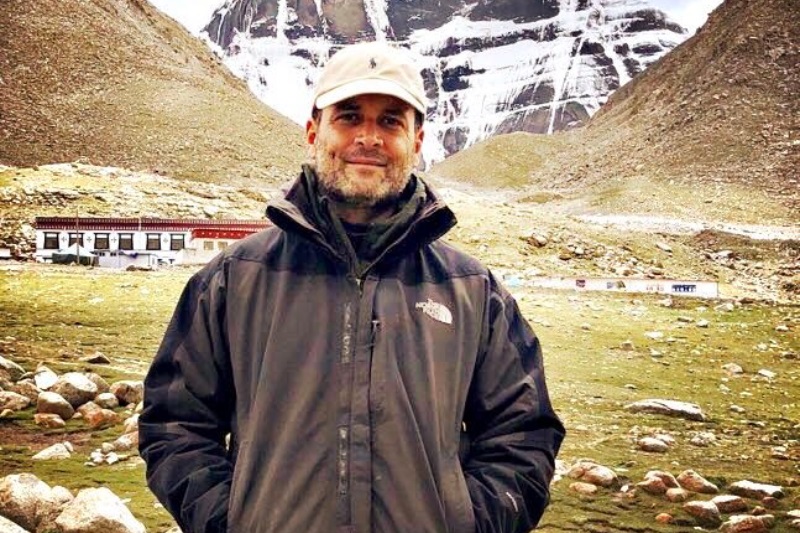 BJP's attempt at taking a jibe at Rahul Gandhi once again took a massive jolt after their claims that the Congress head was lying about his whereabouts and putting up fake pictures were proved wrong.
Rahul, who is currently on a 12-day Kailash Mansarovar pilgrimage, had posted a series of pictures on his Twitter handle after visiting the Lake Rakshas Tal in the autonomous Tibetan region.
The stunning beauty of lake Rakshas Tal.#KailashYatra pic.twitter.com/GXYsR4hjAT

— Rahul Gandhi (@RahulGandhi) September 5, 2018

But many BJP supporters including the Saffron Party's social media national in charge Priti Gandhi pointed out that those pictures were fake and were reportedly taken out of the internet. The party even claimed that Rahul was allegedly visiting China without informing the government. We want to know who is he visiting there, a BJP senior leader was quoted as saying by a national daily.
Rahul was reportedly going on the pilgrimage in Nepal via China, which prompted many BJP supporters to question if he was visiting anyone in China – a nation with whom India shares a  hot-cold relationship.
. @RahulGandhi Are you downloading pics from the internet and tweeting? Are you really at Mansarovar or some place else? pic.twitter.com/mkQuCJiXA2

— Priti Gandhi (@MrsGandhi) September 5, 2018
So @RahulGandhi ji doing #KailashYatra via Google search.
Virtual world ……huh…. pic.twitter.com/QhB5YrfAUw

— Mahesh Herambha (@MahiHerambha) September 5, 2018
Post Card News co-founder Mahesh Hedge also questioned the Congress chief about his whereabouts, even asking if he was actually pretending to be in the shrine?
Why Rahul Gandhi tweeting pictures off the internet?

Is he somewhere else and pretending to be in Mansarovar? pic.twitter.com/tuMC7Qdb9E

— Mahesh Vikram Hegde (@mvmeet) September 5, 2018
Also Read: Rafale deal: Rahul Gandhi unaware of facts, says IAF deputy chief
Sir apni photo to daalo, ye sab to Internet pe bhi hai 🤔 https://t.co/ROYXruXkDR

— RJ Raunac (@rjraunac) September 6, 2018

Their doubts, as well as accusations, were however put to rest when the official Twitter handle of the Congress put up a picture of Rahul Gandhi at the Kailash Shrine, even attaching a screenshot of his Fitbit, which showed that Rahul had trekked for 13 non-stop hours and covered 34 km.
Leaving all the haters behind, Congress President @RahulGandhi sets the pace during his #KailashYatra. Can you keep up? pic.twitter.com/aphQ8B6CAn

— Congress (@INCIndia) September 7, 2018
In the picture, the 48-year-old wearing jeans and a jacket along with a pair of sunglasses and a cap. The Party even asked the "haters" if they can keep up the pace with Rahul.
News agency ANI also posted a series of pictures of the Congress chief, in which he is pictured with other pilgrims at the Kailash Mansarovar Yatra.
Congress President Rahul Gandhi during #KailashMansarovarYatra with other pilgrims pic.twitter.com/hMLqL6KzOw

— ANI (@ANI) September 7, 2018

Meanwhile, Gandhi had also posted a picture of Mount Kailash on September 5, captioning "It is so humbling to be walking in the shadow of this giant."
It is so humbling to be walking in the shadow of this giant. #KailashYatra pic.twitter.com/SGbP1YWb2q

— Rahul Gandhi (@RahulGandhi) September 6, 2018
Shiva is the Universe. #KailashYatra pic.twitter.com/1do7SW9eb4

— Rahul Gandhi (@RahulGandhi) September 7, 2018

The BJP supporters had also accused Rahul of consuming pig meat in Nepal before starting his pilgrimage.
Why is @RahulGandhi tweeting mansarovar pictures from google image search? Is he actually there or still enjoying pig meat in Nepal? 🤔 pic.twitter.com/O7vnf7UMqA

— Vikas Pandey (@MODIfiedVikas) September 5, 2018
Mr. Gandhi kept his promise of making the Mansarovar Yatra after expressing his wish of going on the pilgrimage back in April. He left for Kailash on August 31 and is on a 12-day yatra.