COVID-19 Lockdown: BMC decides to shut all liquor shops in Mumbai
BMC decides to shut all liquor shops in Mumbai, only essential shops to be left open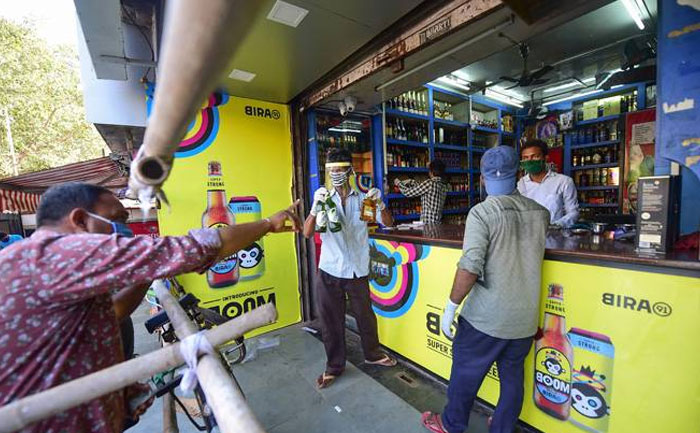 Municipal Commissioner of Mumbai, Praveen Pardeshi has revoked all relaxations. He has stated that alcohol sale in Mumbai will not be allowed from Wednesday, May 6. Mumbai Police has been asked to ensure compliance. The reason behind this decision is the rising cases of COVID-19 in Mumbai.
As per the order issued, Groceries, medical stores, and chemist shops will be allowed to remain open in the city from May 6.
The Central Government had allowed the relaxation of some rules with the start of phase 3 of lockdown. Various businesses, including liquor shops, were allowed to operate by following social distancing norms. Following the orders, the Maharashtra government had allowed reopening of certain non-essential services, including wine shops.
However, huge crowds have been seen at shops selling liquor where following social distancing norms become difficult. Officials said 16.10 lakh litre liquor worth Rs 62.55 crore were sold in Maharashtra on Tuesday.
The BMC said that the gathering of crowds in large numbers without following social distancing norms will be detrimental to the control of the spread of the virus. Adding that advantages of the lockdown might be lost due to the gathering of people in large numbers. To contain the spread the BMC has decided to close non=essential shops including wine shops till further notice.
Mumbai on Tuesday has reported 635 new COVID-19 cases and 26 deaths, taking the total case count to 9,758 and the death toll to 387. Mumbai has the highest number of cases for any city in the country.
The third phase of lockdown is in force till May 17.
Also Read: COVID-19 Lockdown: Karnataka records Rs 45 crore worth of liquor sales on first day