COVID-19 Lockdown: Karnataka records Rs 45 crore worth of liquor sales on first day
Coronavirus Lockdown: Karnataka sells 45 crore worth liquor on day 1 of resuming sales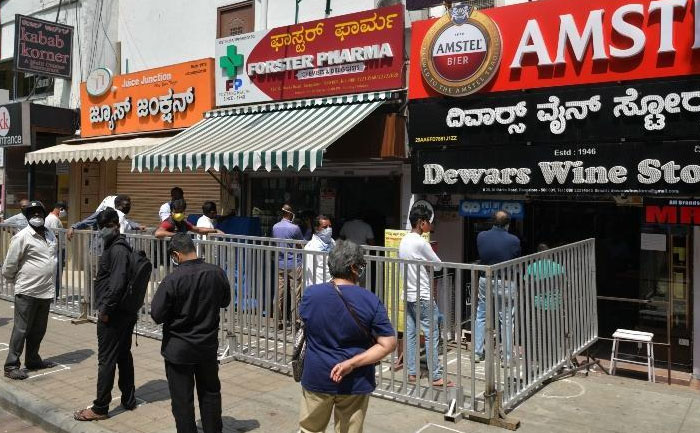 On Monday liquor shops opened across India, under relaxations during the extended lockdown. As per the orders of the Karnataka Government, liquor shops started operating across the state from 9 am to 7 pm with some restrictions. The government has taken the decision to open liquor shops in order to mobilize revenue. However, bars, pubs, restaurants remained closed. The state made a record selling of Rs-45 crore worth of liquor on day 1.
According to a report in Banglore Mirror, over 1,500 liquor stores across the state sold an estimate 3.9 lakh litres of beer and eight lakh litres of Indian Made Foreign Liquor (IMFL) on Monday.
The Karnataka Excise department estimated the value of the sale of liquor on the first-day wine stores in the state opened to be around Rs 45 crore. The state Excise department revealed in a press release that around 3.9 lakh litres of beer and 8.5 lakh litres of liquor were sold in liquor stores across the state on May 4.
According to retailers, many chose to buy hard liquor over a beer as it can be stocked up and the intoxication level is also high. Restrictions imposed allowed stores to sell three bottles of spirits and six bottles of 650 ML beer or 12 bottles of 330 ML beer per person.
In Bengaluru, hundreds queued up outside liquor stores starting from dawn. Long lines were reported in several parts of the city. The stores were allowed to be open from 9 am till 7 pm in non-containment zones.
The nationwide lockdown entered its third phase on May 4. The country will be under lockdown for another two weeks to prevent the spread of novel coronavirus infection.
Also Read: COVID-19 Pandemic: Karnataka to stay locked till May 3