PM Modi's swearing-in ceremony: Akshay Kumar, Kangana Ranaut, SRK are expected to attend
The oath-taking ceremony will take place at 7 pm today.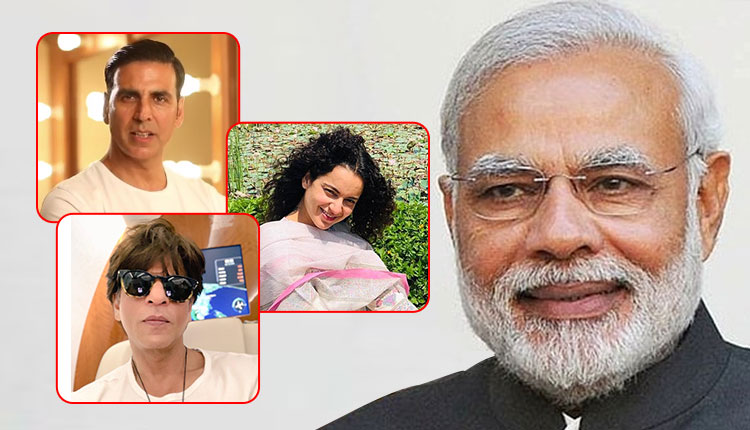 Prime Minister Narendra Modi will be swearing-in as PM for the second consecutive term at the Rashtrapati Bhawan today. This year in the Lok Sabha Elections, BJP had a massive victory over the opposition parties. The oath-taking ceremony will be administered by President Ram Nath Kovind. Around 8,000 guests are expected to attend the ceremony in which the names of a few Bollywood celebs are also included and actors like Akshay Kumar, Kangana Ranaut and Shah Rukh Khan among others are likely to attend.
Akshay Kumar recently interviewed Modi and he is expected to attend the historical event. Also, Kangana who doesn't shy away to voice her opinions on social issues may also witness the oath-taking ceremony.
As per reports, Raju Shrivastav, Anupam Kher, Vicky Kaushal, Javed Akhtar, Kailash Kher, are also invited for the ceremony. Also, the Khans of Bollywood- Shahrukh, Salman, and Aamir are sent invitations.
As reported by ANI, Vivek Oberoi and Boman Irani reached the national capital today to witness Modi taking oath as the Prime Minister yet again. Vivek who played Modi in the recent release biopic on the PM said the oath-taking ceremony as the "big day for the whole country".
A few days back superstar Rajinikanth said that he will be attending the swearing-in ceremony.
Apart from Bollywood stars and leaders of opposition parties, leaders of neigbouring countries like Bangladesh, Bhutan, Myanmar, Nepal, Sri Lanka, and Thailand are also invited. The oath-taking ceremony will start at 7 pm.
We will keep you updated, till then stay tuned to our space.
Also Read: As PM Modi Visits And Meditates In Kedarnath Cave, Twitterati Calls Him 'Attention Seeker'