As PM Modi visits and meditates in Kedarnath cave, Twitterati calls him 'attention seeker'
PM Modi has visited Kedarnath shrine today and pictures of him meditating in a cave near Kedarnath are going viral.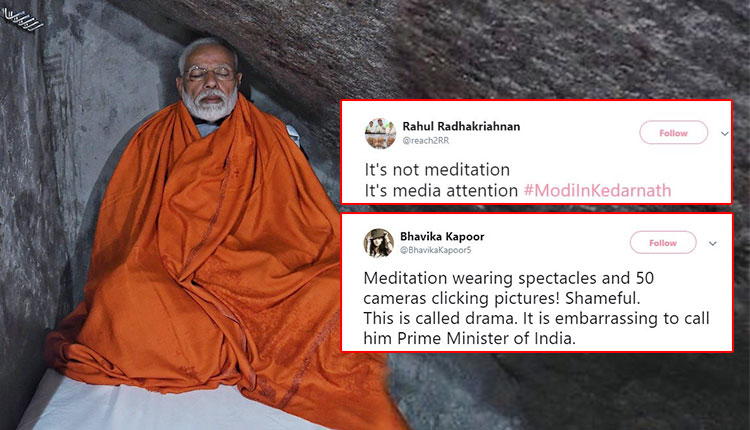 PM Narendra Modi is on a two-day visit to Uttarakhand. He got a red carpet welcome on his visit to God's abode Kedarnath. The opposition parties have got yet another reason to mock him. Many politicians and leaders of the opposition parties slammed for getting clicked in the holy shrine and meditating inside the cave. Also, the common people trolled him for the same.
While some called him 'media attention seeker', there were some who called him 'actor'
Have a look at the trolls below.
It's Sunday morning, friends. Laugh a while.
Here's a no-brainer for you!!Try and spot the hidden cameraman! It's not too hard!
We have already given you the answers, though! #ModiinKedarnath pic.twitter.com/a1b9BTAgIG

— Assam Congress (@INCAssam) May 19, 2019
It's not meditation
It's media attention #ModiInKedarnath pic.twitter.com/VZ9YHDsRoA

— Gangadhar ಮುನಿನರಸಿಂಹಯ್ಯ (@GangadharSKLNS) May 19, 2019
Is PM in Kedarnath or Cannes?
Why this Red Carpet though?#ModiInKedarnath pic.twitter.com/iVACxwlkxq

— RJ NIKKHIL VERMA (@nikkhil2508) May 18, 2019
Modi ji posing for the camera after the red carpet walk!!#ModiInKedarnath pic.twitter.com/ySjriupqdt

— Lokesh Sharma (@_lokeshsharma) May 18, 2019
World-renowned Actor Narendra Modi attends Cannes Film Festival in Kedarnath Temple. (2019) #ModiInKedarnath pic.twitter.com/rlzPn5LNEu

— Parth Gupta (@ParthGu64676074) May 19, 2019
#ModiInKedarnath #ExitPoll2019
Common Man vs Fakir pic.twitter.com/5PJKhbztUf

— What So Social (@what_social) May 19, 2019
#ModiInKedarnath
Does anyone know that a pm also carries a fashion designer ???
One thing I am sure about the cameraman (#andhbhkat @ANI )
What a show !!
Hats off to paid media and the politicians .
Neither of the party is working on facts .@abpnewstv @aajtak @TheLallantop pic.twitter.com/TKjyIoB3VM

— (राइटिंग meter) (@rajpurohit_lekh) May 18, 2019
CPIM general secretary Sitaram Yechury said in his tweet that Modi violated the model code of conduct.
Religion is a matter of personal faith and EC has reiterated that it cannot be used for garnering votes. But Modi violates the MCC brazenly with footage of his Kedarnath religious activity over TV channels during silent period before polling. And EC continues to sleep on the job https://t.co/032k5aYsgF

— Sitaram Yechury (@SitaramYechury) May 18, 2019
Also, TMC leader Derek O'Brien has moved to Election Commission saying Modi's visit to Kedarnath is a violation of the Model Code of Conduct. He wrote a letter to the Commission citing that the campaigning for the seventh and the final phase of Lok Sabha polls 2019 was over on May 17. So, he requested that the broadcast should be stopped immediately.
What do you have to say about Modi's visit to Kedarnath? Do you also think that it's for media attention? Do let us know.
Also Read: Twitterati Slams Narendra Modi For His Claims Of Using Digital Camera And Email In 1980s