Quarantine fashion: From Janhvi Kapoor to Malaika Arora, take cues from THESE Bollywood divas
Here's how Bollywood actresses are inspiring lockdown fashion during self-quarantine.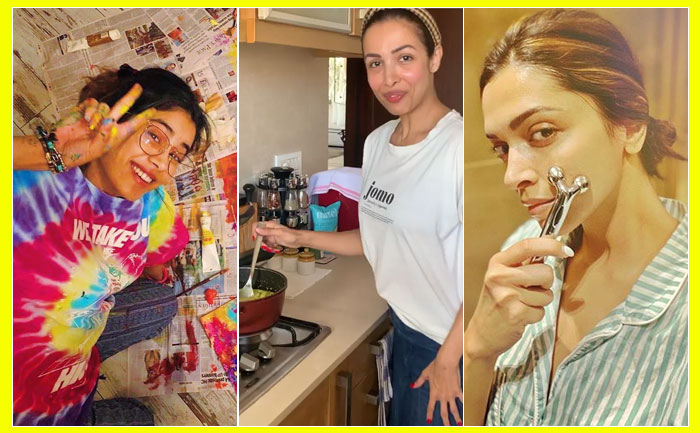 The unfortunate outbreak of novel coronavirus has created a panic like situation in the entire country and what our Bollywood celebrities miss the most always putting their most fashionable foot forward. However, one can still add some fashion and look put-together by wearing casual yet cozy clothes, and make this quarantine a fashionable one. Right from Deepika Padukone to Janhvi Kapoor to many others, there is a cue that we can take from everyone and so we thought, we would list them down for you.
Here's how B-town beauties are inspiring lockdown fashion during self-quarantine.
1. Janhvi Kapoor
Janhvi Kapoor was seen trying her hands at painting and sharing some colorful artwork on her social media. In the photo, she can be seen wearing a colorful tie-dye tee. For those who didn't know, late actress Sridevi was also an artist and was so good at painting that many of her paintings were in the process of being auctioned at Dubai, well, looks like Janhvi has the skills too just like her mother.
2. Kriti Sanon
Much like everyone else, celebrities are also spending time at home, with no access to salons or their hairstylists due to the ongoing coronavirus lockdown. This has resulted to many cutting their hair at home either by themself or by their siblings and one of the actresses is Kriti Sanon. In the video, shared by the actress, her sister Nupur was seen helping her out in getting a new hairdo. She can be seen donning a red and white checked shirt.
3. Athiya Shetty
Athiya Shetty was seen soaking in the sun, in the photo, she can be seen wearing a comfy hoody and a pair of denim shorts with a book resting on her stomach.
4. Priyanka Chopra
Blazer and pajamas? Priyanka Chopra's Zoom meeting look takes 'business casual' literally. Sharing the photo of herself carrying a very sharp off the white blazer and pale pink top inside, Priyanka channeled all our work from home vibes as she finished the look with loose pajamas and comfortable slides. Well, we all can relate to this, isn't it?
5. Ananya Panday
Ananya Panday is serving some major fashion inspiration with her quarantine looks. In this picture, she can be seen donning a stunning little black dress. Well,  if you are someone who has got a bunch of new clothes, here's your chance to style them and click some stunning photos.
6. Malaika Arora
Malaika Arora has been bringing out her inner chef since the day the nationwide curfew was imposed. In the video, posted by the actress, she can be seen donning a pair of a casual white T-shirt, wide-legged, loose and comfy palazzo style types of denim.
7. Deepika Padukone
Ever since the lockdown has begun, Deepika Padukone has been quite active on her social media handle and posting pictures and videos online from her daily activities, in one of the photo, can be seen indulging in some self-care during the quarantine, in the photo, she can be seen using a face roller, she was also seen sporting chequered pajamas.
8. Disha Patani
Disha Patani is someone who never fails to impress us with her unique and impeccable style sense. In the photo above, she is seen wearing a sleeveless yellow crop top with a pair of light blue shorts in the pictures. She also tied up a blue chequered shirt over her shorts to make it look more fashionable.
Comment down below, which actress's quarantine fashion has inspired you the most.