Bollywood Celebs Ayushmann, Sonam & Yami Took Up The #SareeTwitter Challenge
#SareeTwitter: From Ayushmann Khurrana, Sonam K Ahuja to Yami Gautam, these stars took up the challenge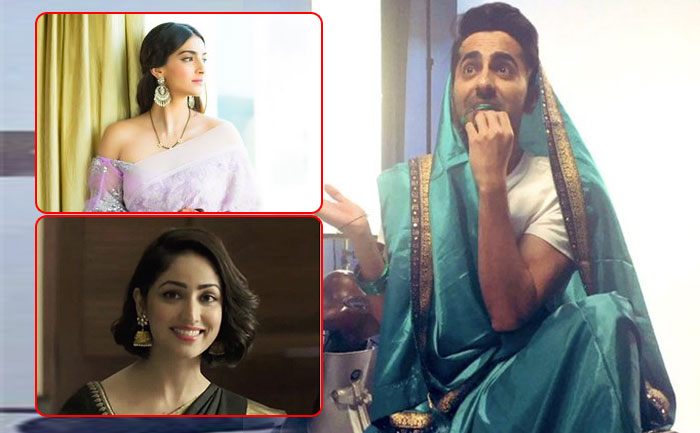 After #FaceApp Challenge, now #SareeTwitter challenge is a new trend on the microblogging site where people including Bollywood celebrities have been sharing pictures of themselves donning a saree. The hashtag #SareeTwitter challenge has created a lot of buzz among netizens as their favourite B-Twon stars including Ayushmann Khurana, Sonam K Ahuja, Divya Dutta, Kirti Kulhari and others have taken the challenge. 
The latest Bollywood celeb who joined the #SareeTwitter trend is Sonam Kapoor. Discussing Sonam's style, we all know that the Raanjhana actress has an amazing fashion sense. Over the last decade, the fashionista has successfully pulled off many great ethnic looks.
Known for her unique fashion styles, Sonam Kapoor gave a twist to #SareeTwitter challenge.
Here's how Bollywood celebs took up #SareeTwitter Challenge
1. Sonam Kapoor
#SareeTwitter before and after ? pic.twitter.com/sBOsXL9NuT

— Sonam K Ahuja (@sonamakapoor) July 17, 2019
She has completely nailed the look. Now let's get on to other celebrities who participated in this challenge too.
2. Kriti Kulhari
#sareetwitter ♥️ pic.twitter.com/5FiO3mAhtL

— Kirti Kulhari (@IamKirtiKulhari) July 16, 2019
Kriti Kulhari wore a beautiful red-black saree.
3. Ayushmann Khurana
#Dreamgirl later this this year. Sigh. #SareeTwitter pic.twitter.com/wqpoJrRNW9

— Ayushmann Khurrana (@ayushmannk) July 17, 2019
Ayushmann Khurrana will definitely win this challenge.
4. Yami Gautam
I completely agree with this trend , nothing can match the elegance and beauty of a Saree ! So sharing my most special saree moment ? #SareeTwitter pic.twitter.com/L20p3eAxZl

— Yami Gautam (@yamigautam) July 16, 2019
Yami Gautam is right, nothing can match the beauty and elegance of a saree.
5. Divya Dutta
#sareelove #SareeTwitter !! My most fav attire pic.twitter.com/rLDxkR29Gq

— Divya Dutta (@divyadutta25) July 16, 2019
Divya Dutta completely nailed the saree look.
6. Gul Panag
Ok then. #SareeTwitter pic.twitter.com/16K1PcTGih

— Gul Panag (@GulPanag) July 16, 2019
Gul Panag's mirror selfie where she's flaunting her blue saree is elegantly beautiful.
7. Tisca Chopra
Ok then. #SareeTwitter pic.twitter.com/gKkyfkUSzZ

— Tisca Chopra (@tiscatime) July 17, 2019
Tisca Chopra is looking drop-dead gorgeous in her black saree.
Who according to you won the saree challenge and nailed it?
Also Read: FaceApp Challenge: What Is FaceApp And How Does It Work?