Brad Pitt's mom WARNS actor to 'not mess' with Jennifer Aniston
Brad Pitt's mother warns him not to hurt Jennifer Aniston amidst reunion rumours with Angelina Jolie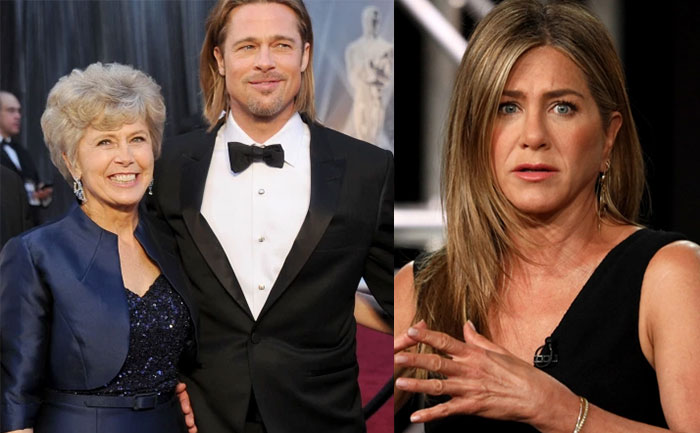 Hollywood stars Brad Pitt and Jennifer Aniston sparked dating reports after the "One Upon a Time in Hollywood" actor attended the "Murder Mystery" actress' 50th birthday last year. The speculations intensified when Jennifer and Brad were snapped together at the 2020 Screen Actor Guild Awards. Speculations of the ex-couple reuniting and living together have been trending since long. Recent reports on Jen and Pitt planning to go down the family way had created a buzz on social media. But nothing has been confirmed by the actors to date.
As reported by sources Heat Magazine, Brad Pitt's mom, Jane Etta Pitt, has been giving him advice over his alleged reunion with Jennifer. Pitt's mother is quite close to the "Just Go with It" actress and have maintained a close relationship even after Jennifer and Brad's split. Jane has warned her son to not mess up with his rumored ladylove.
Jane wants Brad Pitt and Jennifer Aniston to enjoy a long term relation. Therefore, she does not want Brad Pitt to do something that might take a toll on their relationship.
Brad and Jennifer have yet to comment on these reports.
Recent reports also claim that Brad has reunited with Angelina Jolie to support their kids Zahara and Shiloh. Reports have it that Zahara has been undergoing surgeries while Shiloh, recently, underwent surgery on her hip. Pitt gave the Bafta Awards a miss to be with his daughters.
Also Read: Oscars 2020: Brad Pitt wins Best Supporting, Joaquin Phoenix wins best actor award