Brawlhalla Adds Four WWE Superstars To Its Ranks
"Macho Man" Randy Savage, The Undertaker, Roman Reigns and Asuka are now part of the Brawlhalla roster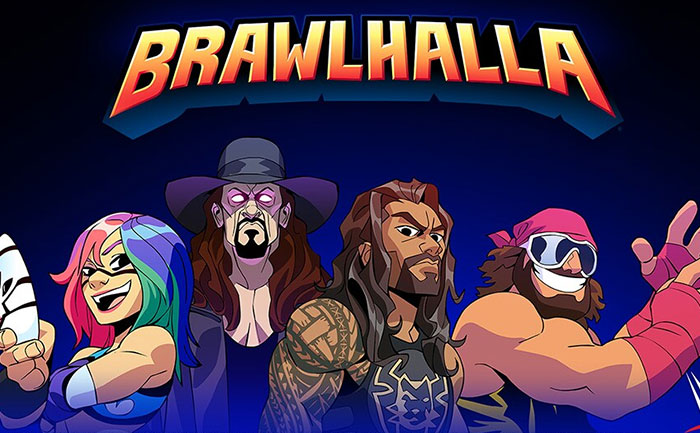 Ubisoft released a trailer to announce the arrival of four new WWE superstars to Brawlhalla. They would be joining the ranks of The Rock, John Cena, Becky Lynch, and Xavier Woods. The new arrivals are "Macho Man" Randy Savage, Roman Reigns, Asuka, and The Undertaker. The new characters are available in the Mallhalla store. Each character costs 300 Mammoth coins to purchase.
"Macho Man" Randy Savage is an Ulgrim Epic crossover, using chairs and charisma to outwit his opponents. Asuka has her Epic crossover roots in Queen Nai and employs fans and her mask to cement her reign as The Empress of Tomorrow. Roman Reigns packs powerful punches as the Epic Crossover for Teros. The Undertaker is the powerful Thor Epic Crossover and uses urns to teleport around the stage.
In addition, Brawldown is also making its return to the game. It has been announced as the Brawl of the Week. The game mode come with its signature ring, breakable tables, and rope physics.
OH YEAH! WWE Superstars "Macho Man" Randy Savage, Undertaker, Asuka, and Roman Reigns joined Brawlhalla today!

Watch the trailer here: https://t.co/VQzMaBwRg5
Read the patch notes here: https://t.co/cJUrBfoTmj pic.twitter.com/5eclq9dKRU

— Brawlhalla ? World Championship (@Brawlhalla) November 4, 2019
Brawlhalla lets players choose from Online, Offline or Casual Competitive modes. Players can choose to play locally with friends or try to achieve a High Score in single player. There is also an option to fight to climb up the ranked ladder. The game has held three professional competitions so far in 2016, 2017 and 2018.
Brawlhalla is a free-to-play 2D fighting game. It features a variety of modes and original characters to play with. Brawlhalla has been developed by Blue Mammoth Games and is a free-to-play fighting game. It is available to play on Microsoft Windows, Mac OS, PlayStation 4, Xbox One and Nintendo Switch. The game was originally released in November 2017.