BTS ARMY Request K-Pop Group To Hire Translator For 2020 Tour
Post 'Uncomfortable' Interview, BTS fans have urged the boy band to hire a translator to express themselves in a good way.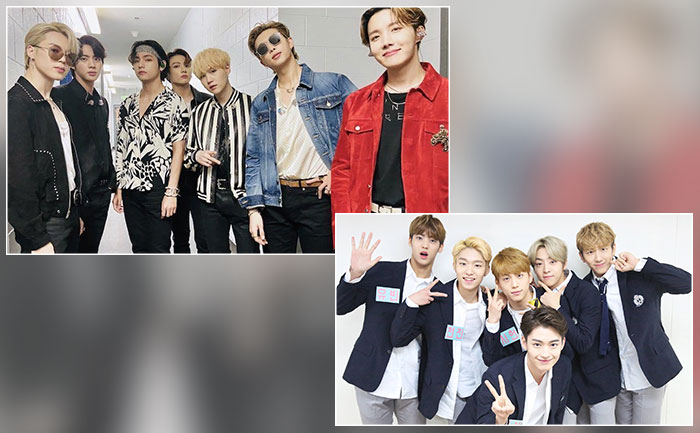 BTS Army seems to be not happy with South Korean boy band's latest interview and they have requested the band to hire a translator before their Tour 2020 begins. Yes, fans of BTS said that they feel bad that their favorite pop stars do not have a translator with them during their interviews.
The request of demanding a translator comes after a video BTS' conversation with an LA based ration station went viral on the internet. Taking to microblogging site, BTS Army claimed that members of Bangtan Boys seemed uncomfortable while giving an interview to the radio station. BTS Interact With ARMY At IHeartRadio LIVE
The user who shared the video translated what Suga had said into English, as the 'Boy With Luv' hitmakers usually speak in their native language, Korean.
A user wrote on Twitter, "They should've gotten a translator during the interview, they could've gotten more from BTS."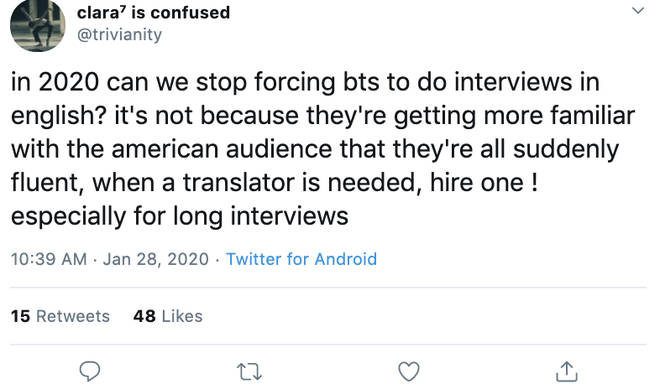 It is RM and Joon who usually take the responsibility to translate in interview, but BTS Army feel that they are not allowed to express themselves properly because of the language barrier.
Another user wrote, "They should have a translator for this kind of interview.. They want to express so much more but they don't feel comfortable speaking English yet."
Not only the band, fans of BTS have called out their management company BigHit Entertainment for not helping them, with on wrote, "That one CEO of BH can come on Grammys red carpet and take pics w/ BTS like he's the 8th member.
"But he can't make the decision to provide a good translator for BTS when they're giving interviews in US.. voicing their thoughts doesn't matter as long as they look good in pics ig [sic]."
"I hope BigHit would hire a Korean translator next time on BTS's interviews in the U.S because the iHeart interview earlier was quite cringey. The boys looked bored because of the same annoying questions and are seemed forced to speak English," said another.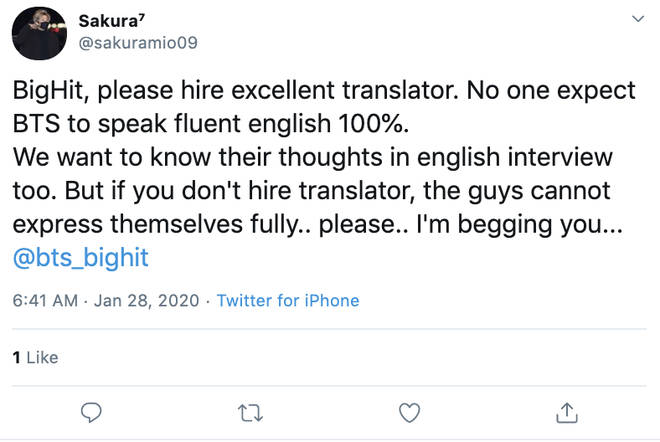 BTS fans are hoping the band would feel comfortable and be able to express themselves properly in English, once they get a translator.
"Artists of BTS' station should have their own translator(s) with them for western press junkets. Namjoon shouldn't have to act as a translator for these interviews. It must be so stressful for him to constantly translate and give answers at the same time. Wish BH cared enough [sic]."
The 'Fake Love' singers have created a history by performing at the 2020 Grammys. It was the first time a Korean group performed at the prestigious music awards show. They performed on Sunday night alongside rapper Lil Nas X here. RM, J-Hope, Suga, Jung Kook, Jimin, Jin and V showed up in the second part of the rapper's rendition of "Old town road" to provide some extra vocals and dance alongside Lil Nas X.
BTS are all set to kick-off their world tour in Seoul, South Korea, before continuing to the US, Europe and the UK.