BTS Coming To India? ARMY's Speculate After Priyanka Chopra Introduces The Members
Kpop band, BTS has a global fandom. ARMY's from India speculate that the band members might come to India soon as Priyanka Chopra introduced them at the Global Citizen Stage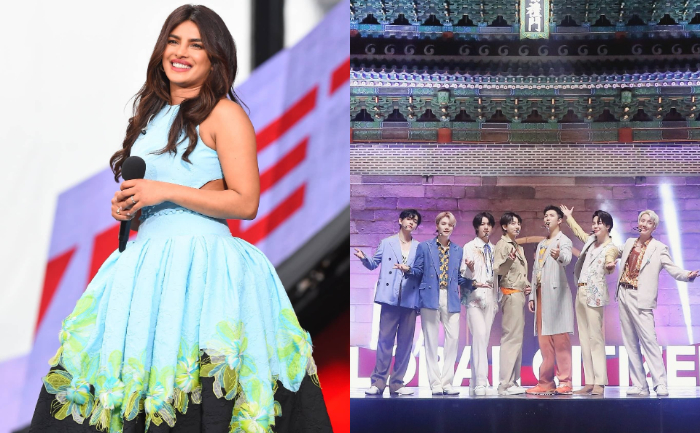 BTS members- Jin, Jimin, Jungkook, J-Hope, V, RM and Suga graced the Global Citizen Stage. ARMY's can't contain their excitement as the boys performed on their songs including Permission To Dance. The band members joined renowned artist such as Ed Sheeran, Elton John, Jennifer Lopez, Billie Eilish, Shawn Mendes, Camila Cabello and Lizzo as performers for the event, which is being streamed live over 24 hours across six different continents. ARMY's from India got yet another exciting sight to behold when Priyanka Chopra introduced the boys. Many fans took to Twitter and other social media handles to speculate that the septet will soon come to India.
For a very long time ARMY's from India have been speculating that BTS members shall soon come to India. The boys even mentioned their Indian fans several times, while expressing the desire to come to India. Right ahead of BTS's performance on the stage, Bollywood actor, Anil Kapoor made a special appearance. Fans hail these moments as iconic and filled with proud.
Check out how a few ARMY's reacted to Priyanka Chopra introducing BTS members:
Watching @priyankachopra on Global Citizen Live🤑@BTS_twt come quickly dude😘 pic.twitter.com/PbFr5lV0fv

— Mrs. SeokJin 🌸 (@jinmoontrisha) September 25, 2021
The day Priyanka Chopra and Bts interact will be the day the world goes crazy

— Bra'nya supremacy👩‍❤️‍💋‍👩 (@nickyankakisses) September 26, 2021
PS- I feel so proud seeing PRIYANKA CHOPRA and ANIL KAPOOR representing INDIA out their, I never expected to see them while waiting for BTS to perform…!!
What BTS is to KOREA is what they too are to INDIA, the two MEGA STARS 🇮🇳✨ pic.twitter.com/a8nU2KAW0G

— Tae's Wife 🐯💜 (@wifeof_tae) September 25, 2021
Priyanka Chopra hosting I told ya'll BTS coming to India

— paridhee⁷⛓🎸| sam loml (@pasteltanniess) September 25, 2021
the gasp that i let out when i saw priyanka chopra and the double gasp that i let out when i saw anil kapoor. like i was just trying to watch bts perform and did not expect to see two big indian actors

— ᴎ⁷ (@creampeachesss) September 25, 2021
For more such updates, stay hooked on to The Live Mirror.
Also Read: My Universe: BTS & Coldplay Drop The New Single