My Universe: BTS & Coldplay Drop The New Single
BTS and Coldplay New Single Collaboration My Universe Released. Check ARMY's Reaction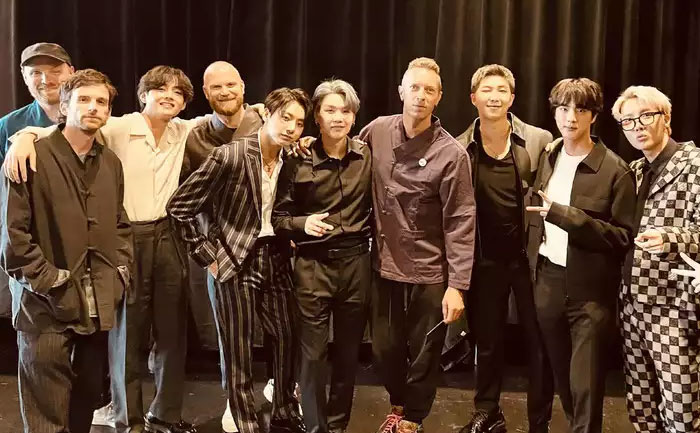 BTS and Coldplay's highly-anticipated collaboration, My Universe is finally out. The love song features lyrics in Korean and English. "You, you are my universe and I just want to put you first. And you, you are my universe, and you make my world light up inside," Chris Martin sings in the chorus. BTS members sing other portions in Korean.
My Universe was co-written by both the groups with Swedish hitmaker Max Martin. The song is also the second single to be lifted from Coldplay's forthcoming studio album 'Music Of The Spheres'.
Check out the viral video here:
The bilingual song has the perfect mix of Coldplay's romantic vibe and BTS' lyrics. It is accompanied by a short rap section in Korean by Suga and J-Hope. The track will appear on Coldplay's upcoming Music of the Spheres LP, which arrives on October 15th.
ARMYs and Coldplay fans have taken to social media to shower praises for the song.
A whole masterpiece! This is so heartwarming and comforting.

"We are ALLone in the universe"

But I know truly I am not alone. #MyUniverse #coldplayBTS #COLDPLAYxBTS pic.twitter.com/2VDNOU6vfb

— 𝕄𝕠𝕪𝕒⁷ ✨ – NAMKOOK CSE💗 (@lachimolaloves) September 24, 2021
The rap in My universe 😭this song is so amazing I'm glad cold tan collab happened #MyUniverse #ColdplayXBTS pic.twitter.com/nPZ49cFleU

— J ?! ⁷ 🪐💫🌕 (@whalienmoni) September 24, 2021
yoongi's verse omfg DO YOU HEAR HIM IN THE BACKGROUND????? #MyUniverse pic.twitter.com/esgzwocF0F

— yoongi (@hourIyng) September 24, 2021
the transition from the chorus to taes deep voice #MyUniverse pic.twitter.com/ucgwLVCuXl

— agust d⁷ (@pjmyoongii) September 24, 2021
BTS has released two English tracks this year. The first Butter was out in June. it went on to hold the top spot on the Billboard Hot 100 chart for 10 weeks. The group next released a remix version of the song with Megan Thee Stallion.
BTS then released Permission to Dance, to celebrate ARMY Day. The song also debuted at the top spot of the Billboard Hot 100 chart. It inspired the Permission to Dance challenge across the globe.
Also Read: Coldplay & BTS Pose for Picture Ahead of My Universe Release