BigHit Entertainment Unveils Teaser Of BTS' FESTA 2020-Watch 
South Korean Boyband, BTS Is Geared Up For FESTA 2020. BigHit Entertainment Unveils The Teaser-Watch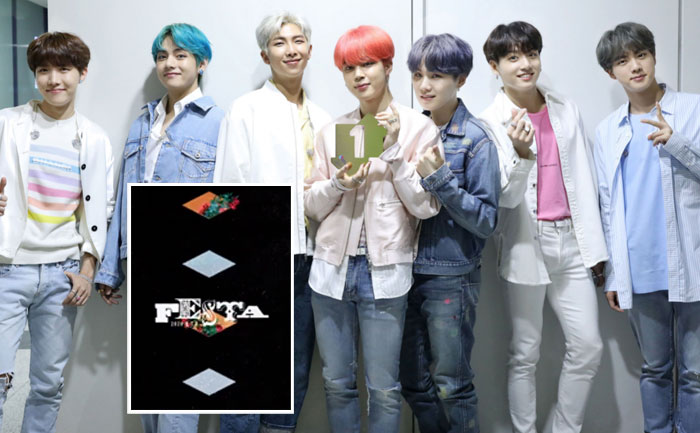 The South Korean boyband, BTS marked their debut in the year 2013 and ever since then, the boyband members have been spreading their charm all over. Apart from their soulful songs and stellar stage performances, they are known for having a special bond with their A.R.M.Y(fans). BTS members make sure to make their fans feel special and they even celebrate their debut album anniversary on June 13 every day with their fans. The BulletProof boys are all geared to celebrate their 7th anniversary this year and their label, BigHit Entertainment drops the teaser of their Festa 2020.
BigHit Entertainments took to its official Instagram handle and unveiled the cryptic teaser of BTS' Festa 2020. The teaser showcases a  magic shop window, with the BTS logo on the top of it. The glittery window takes us to the seven silver and orange graphics (which probably represents the number of artists in boyband) and floral artwork is shown passing through these graphics. The teaser of the Fiesta 2020 is hailed as the new journey of the boyband and there is some secret that the members are coming up with. Take a look at the teaser right here below:
Did you like the teaser? Do let us know.
Soon after the teaser went viral on social media, fans started speculating the real meaning behind the teaser. Here, you can check out how BTS' fans have come to the conclusions meanwhile:
"What is that object?"
"That is not an object. It flies. It an aeroplane. It's my aeroplane." "And I was proud to have him learn that I could fly"
– The Little Prince: Chapter III #2020BTSFESTA @BTS_twt pic.twitter.com/fW0xYEZAzS

— ☾⁷ #TonightWithJin (@sofinebts) May 27, 2020
Various members of @BTS_twt have been compared to The Little Prince over the years & the Young Forever compilation styling has overtones of it. Jimin was widely compared to The Little Prince after the release of Serendipity. #2020BTSFESTA pic.twitter.com/fVIgVy7cNB

— Kookie Crumbles ⁷ ⟭⟬ ⟬⟭ 💜 (@Crumbles4Kookie) May 27, 2020
#2020BTSFESTA
Little Prince – B612
Bangtan – B613 pic.twitter.com/hBbDqTF93Z

— 아미살롱 ᴀʀᴍʏ sᴀʟᴏɴ (@BTSARMY_Salon) May 27, 2020
The Festa will kickstart from June 1 and it will last till mid of the month. BTS members would be treating their fans, with some amazing content from their professional as well as personal life during these days, such as songs, photos and quirky videos. As announced by the band, they will also treat their fans with Bang Bang Con: The Live on June 14, 2020.
For more such updates, stay hooked on to The Live Mirror.
Also Read:  BTS' 'My Time' Producer, SleepDeez Reveals That Beyonce Liked This Jungkook's Song