BTS's Jungkook colored hair dark blue; ARMY's believe its for mix-tape
Jungkook from the Bangtan Boys shared his new look. Deep dark blue hair makes ARMY think that it is for his upcoming mix-tape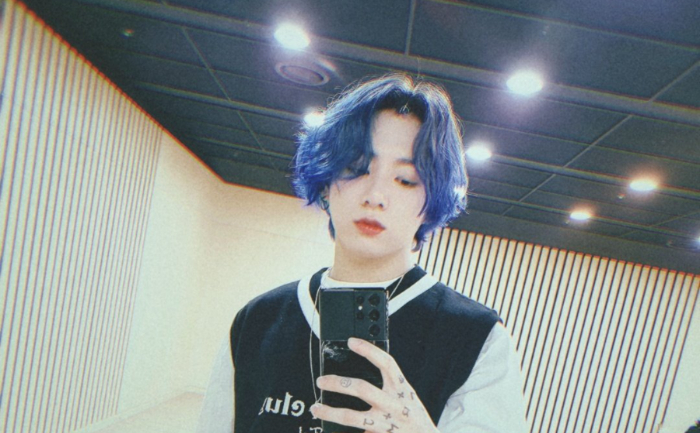 BTS members surely know how to make ARMY's heart flutter with their adorable antics and power-packed concerts. After Jungkook treated his fans with a picture, his new hair color becomes hot topic of discussion. What's making maknae's fan discuss so much? Well, many believe that he colored it purple while many others believe it to be true dark blue. If these speculations are true then Jungkook must have been teasing his fans and suddenly he might plan to reveal his real hair color. Nonetheless, it is also believed that he is prepping for the release of his mixtape and thus the new look.
The golden maknae, Jungkook took to BTS's official Twitter handle and shared his mirror selfie from the choreography room. After the picture goes viral fans speculate that this look could be for his upcoming mixtape, the title has not been revealed as of yet. Another thing that the selfie is quite abuzz is due to his hair, which appears to be deep dark blue. Many believe that he has colored his hair blue, while many others believe that it's the filter on the picture that makes it appear blue, and in reality, it's purple. We never know, BTS members have teased ARMY earlier as well when it comes to revealing their hair colors.
셀프 염색 🙂#JJK pic.twitter.com/07WdTOB32e

— 방탄소년단 (@BTS_twt) February 24, 2021
Don't miss out on what ARMY is saying about his new look:
Samsung commented "you see 💙, we see 💜" does they mean jungkook's hair is purple however the filter makes it look blue??? pic.twitter.com/Dp45qLG0m5

— mhyungs⁷ (@mpeachyungs) February 24, 2021
Jungkook's hair is purple and not blue 😊 pic.twitter.com/5clD87wgei

— Daily Bangtan⁷ (@luvdailyBTS) February 25, 2021
What do you think about Jungkook's this picture? Do let us know. Also, did you find any of the eager eggs in this picture? Do let us know.
The septet recently marked their debut on the MTC unplugged version and they performed on two of the exclusive songs from their BE album. BTS also performed on the cover version of Fix You (Coldplay cover).
For more such updates, stay hooked on to The Live Mirror.
Also Read:  BTS Maknae Jungkook's Tattoo And Hidden Meaning; Here's What Makes Is So Special For ARMY