The official BTS meal has arrived at McDonald's Canada
New BTS meal available at McDonald's outlets across Canada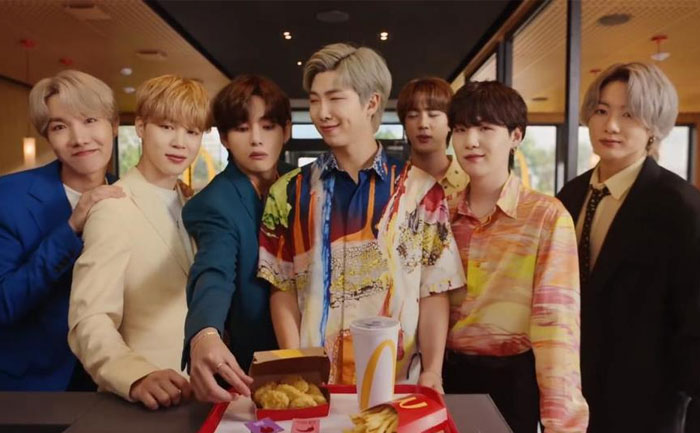 It's here! Finally, BTS fans can order the official band meal at McDonald's in Canada. The meal is inspired by recipes from the franchises' South Korean locations. The signature order features 10 chicken McNuggets, medium fries, medium coke, and sweet chili, and cajun dipping sauces.
View this post on Instagram
Alyssa Buetikofer, Chief Marketing Officer of McDonald's Canada, said, "We know our guests and crew have been eagerly awaiting the arrival of our first celebrity signature order in Canada, and we're thrilled that the collaboration is finally here."
u🧈 believe it, the #BTSMeal is here pic.twitter.com/hiP05IU8eq

— McDonald's⁷ (@McDonalds) May 26, 2021
The BTS-inspired meal will be available in the U.S. through June 20 and arrives Thursday in 11 additional countries, including South Korea. It will be available in nearly 50 countries by May and June. Orders for the BTS meal can be placed online, in-restaurant, or through the McDonald's app for delivery.
McDonald's is also dropping a limited-edition merchandise line that is inspired by the group's purple colours and fast food chain's logo. The merch includes hoodies, t-shirts, bathrobes, socks, and sandals. The collection goes on sale at 7 p.m. ET Wednesday on Weverse. To shop the collection, you need to download the Weverse Shop app and create an account.
McDonald's will also debut a new TV commercial on Wednesday night featuring the band's single Butter.
Also Read: BTS's Butter Song Breaks Five Major Records On Different Platforms