BTS Members Surprise & Gush Over Jin With 28th Birthday Cake
Bangtan Bomb: BTS surprises Jin with cake for 28th birthday; Jimin, V and RM fuss over him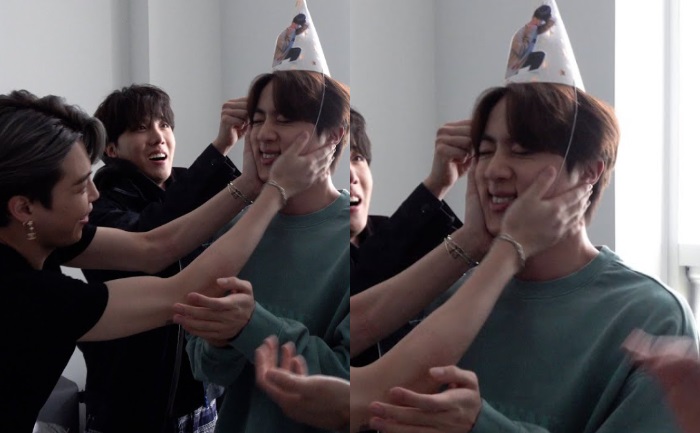 BTS is ruling the music charts since last year. The K-pop group has been flooded with accolades and awards for their achievements. Recently the eldest member of BTS celebrated his 28th birthday on December 4. RM, Jimin, J-hope, V, and Jungkook planned a surprise for Jin's 28th birthday. The members of the popular band group surprised Jin with a cake and also gushed over him.
Check out the viral video here:
In the latest video by Bangtan Bomb, fans can see the world's most phenomenal K-pop group showing love to Jin. The first part of the 2:54-minute video shows Jungkook and J-hope getting ready with Jin's cake. They are designing it with number of candles, and the Moon singer's a customized photo.
The duo then proceeds to take the cake to the room where Jin is, followed by V. All the members; sans Suga who was recovering from shoulder surgery, started singing Happy Birthday to their Hyung. With J-Hope putting the birthday hat on Jin, the birthday boy made a wish and blew out the candles. While thanking everyone, Jin asked who prepared the surprise and J-Hope chimed in saying they prepared it together.
The video ended with Jimin kissing Jin's fingers when the latter did his trademark 'end friendship' sign in a joking manner while Jungkook laughed at his hyung's dramatic antics.
Also Read: BTS V Had A Fan Moment With Baek Jong Won In Recent Run BTS Episode-View