NASA Finds New Planet; Fans Feel Ariana Grande & BTS Discovered It First
NASA Discovers New Planet 1300 Light Years Away. Fans Think BTS and Ariana Grande Found It First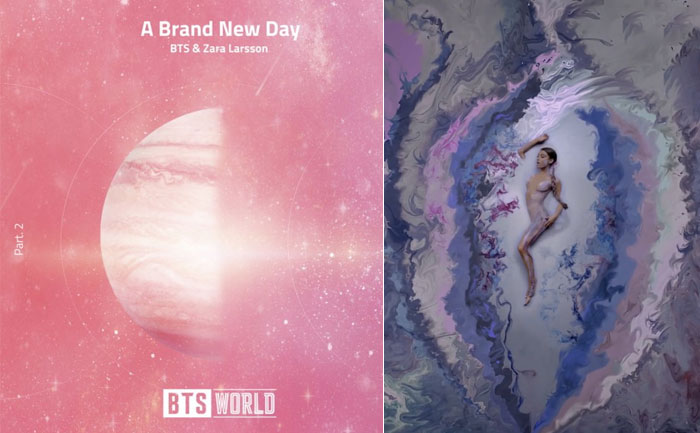 NASA found a Neptune-like exoplanet and named it as TOI-1338. As per the NASA website, The planet TOI-1338 orbits an F-type star. Its mass is 33 Earths and it takes 95.2 days to complete one orbit of its star. It is 0.4607 AU from its star. Recently, someone released a few bot-generated images of TOI 1388b that took the internet by storm. They are not the real images of the planet.
look at this planet that nasa found…shes gorgeous… pic.twitter.com/Msn7wyVtGd

— jessi (@paintwater_boba) January 16, 2021
In these generated images, the planet appears to have a pastel colour appearance, featuring bubblegum pink, soft purple, lavender, and light green shades. The post has garnered over 1.2 million likes and more than 224 thousand retweets!
But BTS ARMY feels that it was the K-Pop group that discovered the planet and so did Ariana Grande fans. The fans compared the bubblegum coloured new planet to the OST image of BTS song 'Heartbeat'. The song came out in the year 2019. Ariana Grande fans cited that the singer found the planet first as the colour scheme featured in her music video 'God Is a Woman' which came out in 2018.
Check out the reactions of fans here:
tell me why this looks like BTS World's planet on the cover art 😮 https://t.co/Mcp46tFFiS pic.twitter.com/ULwxJMzRCh

— tiny⁷☀️🐿 (@lifegoesevenn) January 18, 2021
looks similar https://t.co/tr9QaOxoXt pic.twitter.com/PcN3FyZ8A5

— felle ⁷ ☀️ misses joon already (@decalcomniabyjk) January 18, 2021
ummm ariana found it first??? https://t.co/i56jb1DYGz pic.twitter.com/tl9E8ByWbO

— chingon (@UrenaDanniel) January 17, 2021
*nasa has found planet ariana pic.twitter.com/ge5oBF5Q2J

— will (@myhairwhore) January 17, 2021
yo- pic.twitter.com/2spAXYQLQw

— ✧*̥ Haru ☀ *̥✧ (@_astaethicc) January 18, 2021
Ok but BTS are literally creating planets out here pic.twitter.com/SmNkMPUQwz

— ⟬⟭⁷miaᴮᴱ⟭⟬ (@JiminsPinkyPal) January 18, 2021
The planet is reportedly discovered by a 17-year-old high school student in 2019, during his internship at NASA.
Also Read: NASA Names 18 Astronauts For New Artemis Moon Landing Programme