BTS Celebrates New Year 2020 in Times Square: Fans definitely loved it, here's proof
Here's how BTS rang in New Year 2020 in Times Square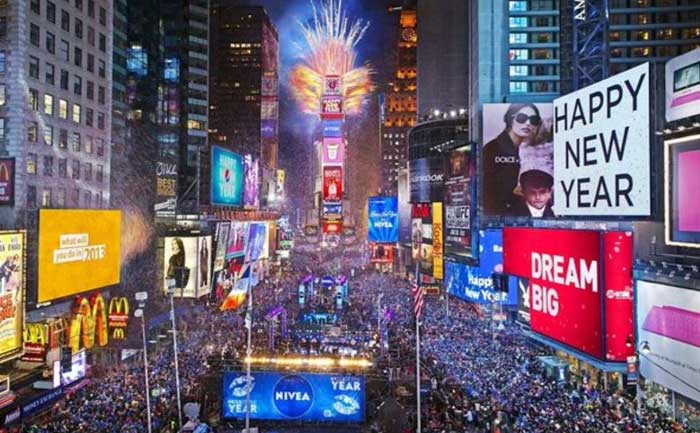 The most popular Korean boyband BTS rang in New Year 2020 in Times Square, New York. BTS Army came too early to cheer on the BTS group comprised of Jimin, Jin, RM, Suga, Jungkook, J Hope, and V and patiently waited with handmade signs and light sticks to cheer the occasion.
The BTS members performed in Times Square, which witnessed a crowd of almost 1.5 million people. During the New Year's eve performance, BTS spread the message of self-love. Besides their mind blowing performance in Times Square, BTS had also made a very special announcement which seems to be fresh images for Google panel, confirmed Danny Sullivan.
The BTS members even tried to have conversation with their fans by walking up to them personally, but looking at the fan frenzy, that could not happen. The BTS members were seen walking down from the stage and into streets of Times Square making their fans go gaga.
Clearer footage of Taehyung recording his birthday ADs going as far to climb on the steps to get a good view. He is so loved and tonight he will be surrounded by his face all over Times square #Taehyung #BTSatTimeSquare @BTS_twt pic.twitter.com/ZIoLpShSPk

— The Tae Print (@thetaeprint) December 31, 2019
This bodes well for 2020. Happy New Year @BTS_twt. #BTSatTimeSquare #RockinEve pic.twitter.com/MIQQQB85CF

— mandi (@somethingepic) December 31, 2019
SHUT UPPP BTS ARE GOING DOWN FROM THE STAGE TO WALK IN THE STREETS AND PERFORM TOO OMG SO MANY ARMYS ARE GOING TO SEE THEM UP CLOSE 🥺🥺#BTSatTimeSquare pic.twitter.com/esbE9vexZm

— grace on taehyung lockdown (@taehyungsrarity) December 31, 2019
BTS members donned a black and white and started their performance with the hit "Make It Right" on the red stairs, then worked their way to the big stage for a big finish, "Boy With Luv." What caught everyone's attentions is Jimin when his jacket adorned his head as a hoodie.
bts started the decade performing in front of 350 people and they will end the decade performing in front of 1.5 MILLION people 🥺#방탄소년단 #BTS #BTSatTimeSquare @BTS_twt pic.twitter.com/16YvKdWXCN

— 𝒍𝒊𝒇 ◡̈ (@mikrokosmocs) December 31, 2019
#BTSAtTimesSquare started trending on Twitter as soon as members from BTS made their way to Times Square. The trend was mostly created through their army and with the help of their 'special announcement'.