BTS leader RM Shares HILARIOUS photos of birthday boy Suga, See pics
The Bangtan Boys members have been posting pictures and videos from the birthday celebration of BTS's member Suga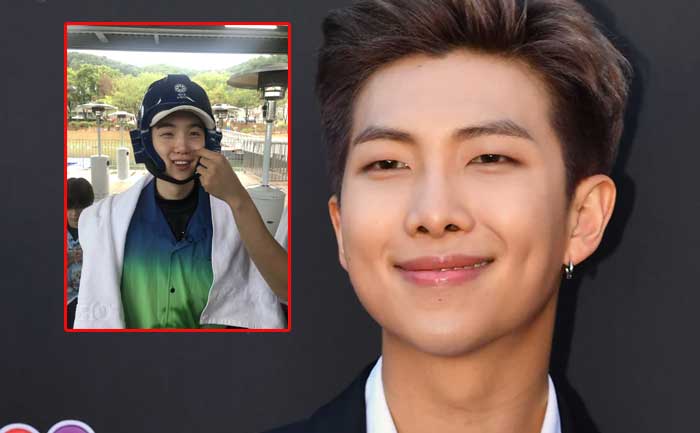 The birthday celebration of BTS rapper Suga does not seem to end at anytime soon. The Bangtan Boys members have been posting pictures and videos from the birthday celebration of BTS's member Suga. The latest member who shared Suga's hilarious pictures is BTS leader RM.
Yes, BTS's RM took to Twitter and posted multiple pictures of the birthday boy Suga. In the first picture, Suga is seen donning a tight headgear pushing his cheeks up. One of the BTS members, who is not visible in the picture, seen pulling his cheeks while Suga all smiles for the pose.
Also Read | The Meaning Of BTS' Jungkook's Flower Tattoo Revealed
In another picture, Yoongi can be seen seated outside a "Genuis Lab" door. In the third picture, the handsome hunk is clicking a slefie and flaunting his double chin. The last and fourth picture revealed that Suga learned vocal lessons from Singer Kim Yeonwoo.
#윤기생일ㅊㅋ
ㅋㅋㅋㅋㅋㅋㅋㅋㅋㅋ pic.twitter.com/ny37RaLTJU

— 방탄소년단 (@BTS_twt) March 9, 2020
BTS's leader RM shared these pictures after Suga thanked his fans for the birthday wishes. He took to Twitter and wrote, "Thank you, ARMY. I think it was a happy birthday thanks to you. Did you all eat chicken with salt? Ha ha As always, thank you and love you. Thank you for the birthday wishes!#SUGA."
감사합니다 아미 여러분 덕분에 행복한 생일이 된 것 같습니다 다들 치킨에 소금 드셨나요?ㅎㅎ 항상 감사하고 사랑합니다 축하해주셔서 감사합니다! #SUGA

— 방탄소년단 (@BTS_twt) March 9, 2020
BTS Army can's get enough of Suga's pictures.
Coming back to BTS leader RM, he had recently shared pictures wearing a mask to keep himself protected from the deadly virus Coronavirus. In the caption, RM informed his fans that he has opted to ride a bike while going for work.
Millions of followers were surprised to see the global sensation taking a bike to go work. Sharing the pictures on Twitter, BTS' RM wrote, "On my way to Yeuido for work ??."
여의도 출근길 ?? pic.twitter.com/luOXb8yCM8

— 방탄소년단 (@BTS_twt) March 6, 2020