BTS Thanks All Fans For Braving Rains In Chicago Through Twitter
JHope jams to Rihanna's song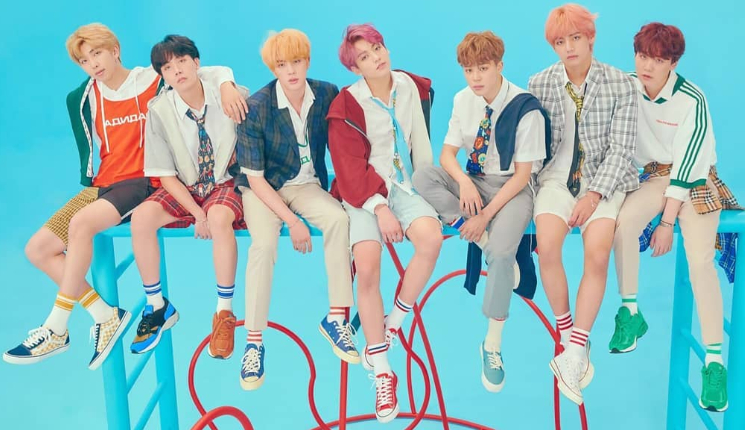 We had come across the recently formed tent city in Fifth Avenue near the central park in Chicago. The boyband BTS had announced their free concert.
The concerts were supposed to be on a first-come-first-serve basis. That has lead BTS army to put up tents for days. In fact, the tents were all s wet because of the rains.
It was a part of Love Yourself: Speak Yourself tour. The stadium thronged with a whopping number of 60000 fans. The band took to Twitter to thank all the fans "Thank you for staying and cheering for us even though it was so cold," they wrote. "I think I'll remember Chicago ARMY always. I love you guys and I'll come back next time! Make sure to drink hot water and take a hot bath before you sleep~ good night ARMY".
Thank you for staying and cheering for us even though it was so cold. I think I'll remember Chicago ARMY always. I love you guys and I'll come back next time! Make sure to drink hot water and take a hot bath before you sleep~ good night ARMY!??#yourlovev

— 방탄소년단 (@BTS_twt) May 13, 2019
Thank you for having an amazing time with us even though it was raining.
I'm not afraid of the rain any more. Because ARMY, you are my umbrella!!! ARMY, 싸랑해요 ??☂️?
Thx Chicago!! pic.twitter.com/k4BK1xONoK

— 방탄소년단 (@BTS_twt) May 13, 2019
JHope took to jamming to Rihanna's song Umbrella which was very befitting to the situation. The tweet read as "Thank you for having an amazing time with us even though it was raining. I'm not afraid of the rain any more. Because ARMY, you are my umbrella!!! ARMY, 싸랑해요 Thx Chicago!!"
Also Read: K-Pop Boyband BTS Launches It's Own Mobile Game For Fans