Building Ram temple at Ayodhya would lead to harmony, says RSS's Arun Kumar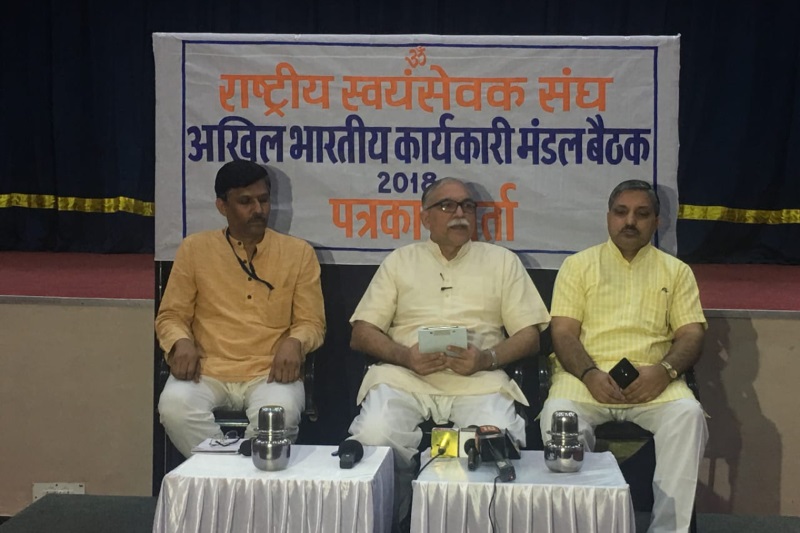 The three-day meet of the Akhil Bharatiya Karyakari Mandal (ABKM) of Rashtriya Swayamsevak Sangh (RSS) will deliberate on qualitative aspects of core organisational issues like its horizontal and vertical expansions, said Akhil Bharatiya Prachar Pramukh, Arun Kumar. He also said that building Ram Temple in Ayodhya would lead to good will and harmony in the country.
While replying to queries from journalists over the Supreme Court's decision to postpone the hearing on Ram Mandir issue till January, Arun Kumar made it clear that the RSS is of the opinion that Temple should be built immediately on Ram Janamsthan.
He also said that with the High Court decision it has already been established beyond doubt that concerned land is Shri Ramjanamsthan and a temple existed at the site before the disputed structure and hence now the issue is limited only to decision on land for temple construction.
"We are of the opinion that Supreme Court should immediately decide the case and if there are some problems, the government should bring legislation to remove the obstacles and handover the Ram janamsthan bhoomi to Shri Ramjanambhoomi Nyas. We have supported all the decisions of Pujay Sant and Dharam Sansad regarding the movement to build construction of temple and will do also in future," Arun Kumar said.
On the backdrop of the ABKM, meet at Keshav Srushti near Bhayandar in Thane district to be held between October 31 and November 2, Arun Kumar addressed a press conference. He said that an organisational overview is taken twice a year — first at the Akhil Bharatiya Pratinidhi Sabha (ABPS) which is held in the month of March and then at the half yearly meet between Vijaydashmi and Diwali which is known as the ABKM.
"While contemporary issues would also be discussed at the ABKM, the thrust remains on the core organisational issues. The meet will start at 8.30 am on Wednesday, October 31 at the Balasaheb Deoras Auditorium in RamRatan Vidyamandir International School in Keshav Srushti," Arun Kumar said.
ABPS is attended by almost 1400 representatives from almost all organisations and units of the RSS and resolutions are passed in that meeting. While ABKM is comparatively smaller meeting with around 350 representatives from 11 regions (Kshetra) and 43 states (Prant) units of the RSS and organising secretaries of seven of the prominent allied organisations.
ALSO READ: FIR against man for circulating morphed picture of RSS president Mohan Bhagwat on WhatsApp