Burj Khalifa Lights Up To Celebrate Telangana's Bathukamma Festival
Telangana's Bathukamma Festival Goes Global as Burj Khalifa Lights Up In A Unique Show Of Colours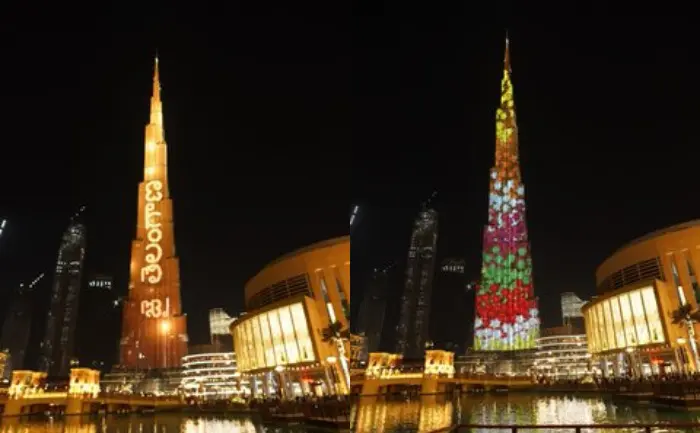 Telangana's Bathukamma festival goes global on Saturday. The world's tallest building Burj Khalifa was lit up in colours depicting the festival. The visual feast was attributed to the efforts of Nizamabad MLC Kalvakuntla Kavitha. She led the Telangana Jagruthi to showcase the states' Bathukamma culture. This was done by featuring it on the worlds' largest screen.
Kavitha is the former Member of Parliament and daughter of Telangana Chief Minister K Chandrashekar Rao. She led Telangana Jagruthi, a cultural and literary organization. It has been working to preserve the cultural heritage of Telangana.
Ms Kavitha took to Twitter to share glimpses of the show. Sharing the video she wrote, "Please join me in witnessing Bathukamma screening at Burj Khalifa, Dubai."
Check out the video here:
Please join me in witnessing Bathukamma screening at Burj Khalifa, Dubai https://t.co/jCRTNokdtI

— Kavitha Kalvakuntla (@RaoKavitha) October 23, 2021
The show of lights was live across various platforms around the globe at 9:30 pm IST. Telangana Jagruthi had also made arrangements to play the Bathukamma documentary on the big screen. The screening featured the maps of India and Telangana and much more. The event was attended by Ms Kavitha along with dignitaries from UAE and India. The slogans of "Jai Hind" and "Jai Telangana" on the Burj screen echoed with pride among the viewers.
For the unversed, Bathukamma celebrations are held throughout the ten days of Dussehra. Bathukamma means "Goddess of Life". Women decorate a special pot with seasonal flowers. They fill the pot with offerings to the Goddess and go on a procession in the village.
Also Read: Telangana Government Lifts COVID-19 Lockdown, Ends All Restrictions