Dubai's Burj Khalifa pays tribute to Mahatma Gandhi
Burj Khalifa lit up with Mahatma Gandhi's image on his 150th anniversary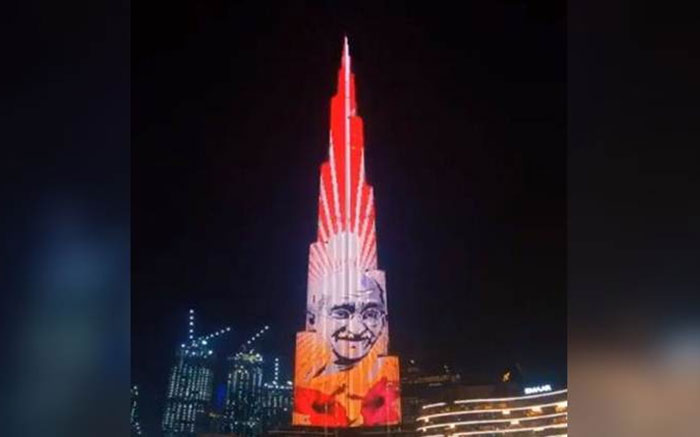 October 2, 2019, was a big day as the country celebrated the 150th birth anniversary of Mahatma Gandhi. Schools, colleges and institutes across the country organised special events today to commemorate the 150th birth anniversary of the Mahatma. Not only Indians but people across the globe paid homage to 'Father of the Nation' who is considered an icon. Indian missions organised major events globally. Landmarks across the globe also paid tribute to the Mahatma who promoted Ahimsa. Dubai's Burj Khalifa too did the same.
World's tallest building, Burj Khalifa in Dubai lit up with photographs of Mahatma Gandhi on the occasion of his 150th birth anniversary. The official Twitter handle of Burj Khalifa posted a one-minute video with a tune of 'Vaishnava Jana To' – Gandhi's favourite bhajan – playing in the background.
Check out the video here:
بطريقة لطيفة ، يمكنك هز العالم-غاندي. نضيء #برج_خليفة إحياءًا لذكرى المهاتما غاندي في ذكرى ميلاده المائة والخمسين

In a gentle way, you can shake the world.- Gandhi. #BurjKhalifa lighting up in memory of Gandhi's 150th birth anniversary pic.twitter.com/JJFRiXv9pH

— Burj Khalifa (@BurjKhalifa) October 2, 2019
The video started with lights creating India's national flag. The tricolour then changed into an image of smiling Gandhi. The video ends with Bapu's image flashed within the Indian flag.
Not many know this but October 2 is also celebrated across the world as 'International Day of Non-violence'. At the United Nations headquarters an event took place on "climate action: Gandhian way".
France and Sri Lanka, released commemorative postage stamps and organised events to mark the day. Events were also organised in Dubai, Mauritius, Saudi Arabia, Lebanon, Myanmar, Switzerland and other countries.
Also Read: Mahatma Gandhi 150th Birth Anniversary: Top 10 Most Inspiring Quotes