CBI vs CBI: Alok Verma, Rakesh Asthana appear before CVC in bribery case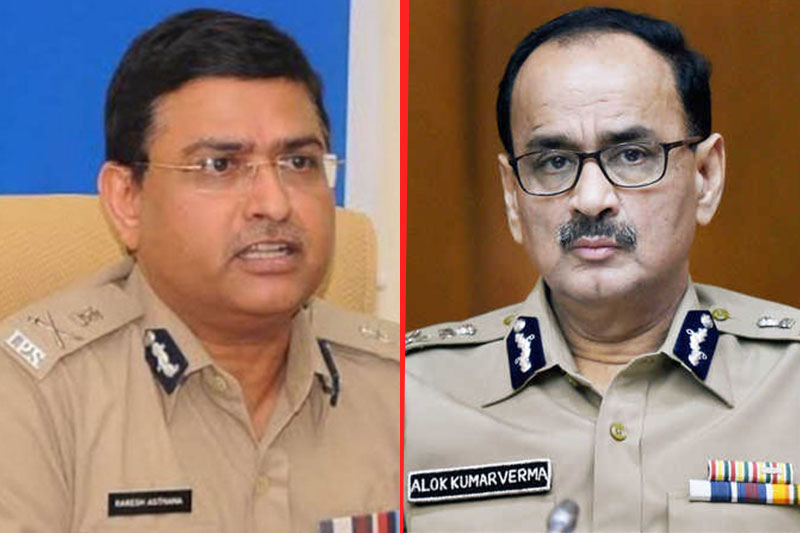 CBI Special Director Rakesh Asthana remained present before the Central Vigilance Commission (CVC) just hours after his superior CBI Director Alok Verma was examined by the CVC. Both officials were examined in connection with the charges levelled by Asthana against Verma.
According to the sources, CVC examined Alok Verma for 40 minutes and Asthana for 20 minutes. However, the sources further added that the CVC was not satisfied with Verma's response and hence he had been asked to appear in person before the commission.
As per the report published in NDTV, a key witness Satish Sana, who both the top two officers alleged bribed the other, has stuck to his testimony given in the FIR against special director Asthana.
According to FIR, the Hyderabad-based businessman paid Rs 3 crore as bribe to a CBI officer who he believed to be Asthana through two middlemen – brothers Somesh and Manoj Prasad. The bribe was paid to be spared any action in an investigation linked to meat exporter Moin Qureshi.
The CVC was informed that on the day the FIR and Satish Sana's statement says the bribe was given to Asthana or the day that the said conversation took place – between December 2 and the actual day of money exchange being December 13, 2017 – Rakesh Asthana was in London attending hearings related to fugitive businessman Vijay Mallya. This is the defence Asthana has put in front of CVC during the interrogation.
Satish Sana's statement said that he first contacted Rakesh Asthana sometime after December 3 last year through Somesh and Manoj Prasad in Dubai. Satish Sana said that Manoj Prasad spoke to the said officer over the phone and showed him his WhatsApp profile photo which he confirmed to be Rakesh Asthana in uniform. He paid Rs 1 crore upfront and then Rs 1.95 crore on December 13 in the Press Club in Delhi.
While Rakesh Asthana is recorded to be in London till at least December 15, what is uncertain is the establishment of the following assertions. Satish Sana claims that on December 15 or 16, Somesh Prasad met Rakesh Asthana at his CBI office in Delhi and made him hear a confirmation from Asthana about his case. This has been presented by Alok Verma's team as evidence against Rakesh Asthana but he claims he wasn't even in the country.
It is to be noted that both Alok Verma and Asthana – who were involved in a bitter feud – were sent on leave by the government to stem infighting within CBI. Nageshwar Rao, a joint director of CBI was appointed as the interim director of the agency.
Also Read: FIR against Rakesh Asthana shows cognisable offences, CBI tells Delhi HC