Sushma Swaraj Dies at 67: Here's how celebs & politicians expressed their sadness
Prime Minister Narenda Modi on Sushma Swaraj's demise: A glorious chapter in Indian politics comes to an end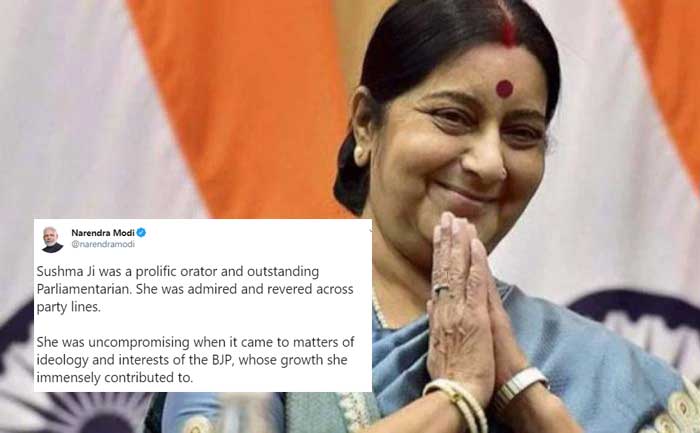 The Supermom of India Sushma Swaraj has unfortunately breathed her last today at Delhi AIIMS Hospital. The Ex-Foreign Minister and BJP Veteran Sushma Swaraj is reportedly died due to a heart attack on 6th August 2019. She was a trendsetter and a remarkable debater of BJP in Rajya Sabha.
As soon as the news of Sushma Swaraj's demise broke, several politicians, celebrities took to their social media accounts and condemned the death of Sushma Swaraj. The news of Swaraj's death has come as a surprise for many as she was recently admitted to AIIMS hospital in Delhi.
Among the politician or celebrities who have expressed their sadness or grief over Sushma Swaraj's death are Prime Minister Narendra Modi, Rahul Gandhi, Amit Shah, Shashi Tharoor, Sharad Pawar, Dr S. Y Quraishi, Rajeev Shukla and many others.
Here's how politician and celebrities reacted to Sushma Swaraj's death news:
Reacting to the news of Sushma Swaraj's demise, PM Modi said, "A glorious chapter in Indian politics comes to an end. India grieves the demise of a remarkable leader who devoted her life to public service and bettering lives of the poor. Sushma Swaraj Ji was one of her kind, who was a source of inspiration for crores of people."
Sushma Ji was a prolific orator and outstanding Parliamentarian. She was admired and revered across party lines.

She was uncompromising when it came to matters of ideology and interests of the BJP, whose growth she immensely contributed to.

— Narendra Modi (@narendramodi) August 6, 2019
The official Twitter handle of Congress was the first one to express their grief over Swaraj's death news. The handle wrote: "We are saddened to hear about the untimely demise of Smt Sushma Swaraj. Our condolences to her family and loved ones."
We are saddened to hear about the untimely demise of Smt Sushma Swaraj. Our condolences to her family and loved ones. pic.twitter.com/T9wg739c8i

— Congress (@INCIndia) August 6, 2019
Saddened by the news of Sushma Swaraj demise, Union Minister Amit Shah also expressed his sorrow. He wrote on Twitter, "सात बार लोक सभा सदस्य और तीन बार विधानसभा सदस्य रहीं सुषमा जी ने दिल्ली की मुख्यमंत्री और केन्द्रीय मंत्रिमंडल में विभिन्न दायित्व निभाये। लोक सभा में विपक्ष की नेता के रूप में सुषमा स्वराज जी भाजपा की मुखर आवाज बनी। उनके रूप में हमने एक विरले, सरल व सादगीपूर्ण नेता खोया है।"
Mourning the death of Sushma Swaraj, Goa Cheif Minister Pramod Sawant said, "She was closely associated with Goa. She was a very strong leader who worked for the party. It is a major loss for the BJP and the nation."
Smriti Irani wrote on Twitter, "I have an axe to grind with you, Didi. You made Bansuri pick a restaurant to take me for a celebratory lunch. You left without fulfilling your promise to the two of us."
10th Chief Minister of Haryana Manohar Lal wrote, "अनेक उच्च संवैधानिक पदों को सुशोभित करते हुए उन्होंने राजनैतिक जीवन में शुचिता के जो मापदंड स्थापित किये वो निर्विवादित हैं। उनके लम्बे राजनैतिक जीवन ने भारत की मातृशक्ति को सदैव प्रेरित किया।
ऐसी महान विभूति को सादर नमन! ॐ शान्ति!"
Congress leader Rahul Gandhi has expressed his shocking by saying, "I'm shocked to hear about the demise of Sushma Swaraj Ji, an extraordinary political leader, a gifted orator and an exceptional Parliamentarian, with friendships across party lines. My condolences to her family in this hour of grief. May her soul rest in peace. Om Shanti."
Expressing sadness, former Karnataka chief minister HD Kumaraswamy said, "I'm shocked to learn about the sudden demise of Former Chief Minister of Delhi, Former Union Minister Sushma Swaraj ji. May her soul rest in peace. My condolences to her family and loved ones."
Former Home Minister Rajnath Singh said, "Smt Sushma Swaraj served the nation with diligence and brilliance. Her contribution to the nation and the party will always be remembered. I offer my heartfelt tributes to her and extend my condolences to her bereaved family."
Arvind Sawant took to Twitter and wrote, "Shocked!!! Deeply saddened by the sudden demise of Sushma Swaraj ji. She was an intellectual, affable leader with concern about masses and a great human being. Nation will miss you Sushma ji! For me I've lost a sister who always proved to be a support in every situation. RIP!"
Senior Politician Shashi Tharoor wrote on Twitter, "Shocked to hear about the sad demise of Sushmaji Swaraj. She would always call me 'Sharad Bhau'. We've lost a great statesman, eloquent orator, efficient administrator, fellow parliamentarian and above all a kind-hearted person."
KPCC President Dinesh Gundu Rao termed Swaraj's death a terrible news. He wrote on Twitter "One of India's great parliamentarians, who could hold her own in any debate. Respected, affable and well-liked by all. We're going to miss her."
Minister for Road Transport & Highways of India, Nitin Gadkari wrote on Twitter: "श्रीमती सुषमा स्वराज जी के दुखद निधन से मुझे गहरा आघात लगा है। उन्होंने हमेशा मुझे बड़ी बहन का स्नेह दिया और संगठनात्मक सलाह देकर राजनीतिक अभिभावक का फ़र्ज़ निभाया। भारतीय राजनीति में मज़बूत विपक्षी और पूर्व विदेश मंत्री के तौर पर उनकी भूमिका को सदैव स्मरण किया जाएगा।"