Champions League: Insigne inspires Napoli to 1-0 win over Liverpool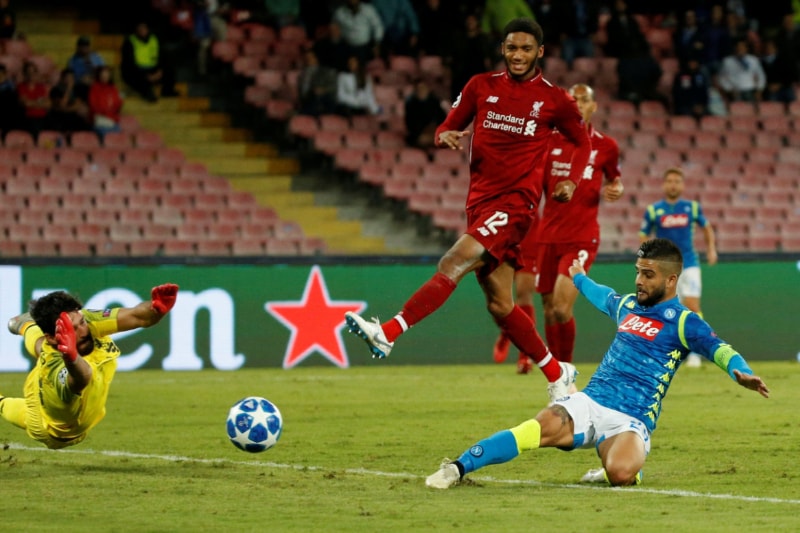 Liverpool were left stunned in Naples on Thursday with Napoli snatching a 0-1 win over Jurgen Klopp's side in the Group C of the Champions League at the Stadio San Paolo.
Lorenzo Insigne left it as late as the 90th minute to help his side edge past the Premier League giants, who have been in sublime form from the start of the season. Cutting in from the right, Jose Callejón found Insigne in front and the latter made no mistake in slotting home the only goal of the match past Liverpool goalkeeper Alisson Becker. Carlo Ancelotti's Napoli thus moves to the top of their group through this win with four points from two matches. They are followed by Paris Saint Germain, who rode on a Neymar hat-trick to thrash Red Star Belgrade 6-1 earlier.
Also read: Champions League: Lionel Messi double inspires Barcelona to 4-2 win against Tottenham
After Naby Keita's injury, Liverpool never really got going. The midfielder suffered an injury because of a probable muscular problem and had to be tearfully stretchered off. Jordan Henderson replaced him in the middle in the 19th-minute mark.
Ancelotti's line-up, following a 3-5-2 formation, saw Nikola Maksimovic drop at the back. Fabian Ruiz and Allan joined the midfield with skipper Marek Hamsik.
The lethal Liverpool trio of Roberto Firmino, Sadio Mane and Mohammed Salah were blunted by the Napoli defence led by Kalidou Koulibaly.
It was a match where the visitors were kept under continuous pressure. Insigne came close to scoring for the hosts on two occasions early. The Italian forward put forward across for Milik who had a shot at the goal in the 50th-minute mark. Joe Gomez came to Liverpool's rescue with a timely clearance before Alisson couldn't collect the ball.
With eight minutes left, it was Gomez, who once again was in the mix of things as he cleared an effort from Callejón. And Insigne finally found the net after all these attempts with the crowd at the San Paolo erupting into cheers.
Image credit-standard.co.uk