Here Is The Movie Review Of Salman Khan Starring Film 'Race 3'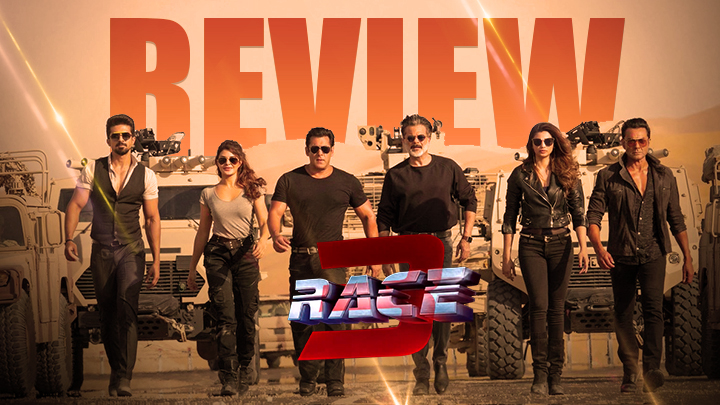 A decade ago, the famous duo Abbas-Mustan had treated the masses with an extraordinary vision in their directorial 'Race'. Produced by Ramesh Taurani, the movie had a complex plot with twist and turns in the narrative, good-looking men and their astonishing ladies. It had picturesque locations which added a lot more to a viewer's theatrical experience than they may have expected. With the movie collecting over a hundred crores, it called for a sequel, 'Race 2' which released in 2012.
After the magnificent success of the last venture, Taurani took a risk by taking the franchise forward with a number of changes in the star cast and the director too. This time around, having Remo D'Souza on board with A-list actors, the producer promised that the film will be x5 times better than its previous parts. Among the ones who were lucky to catch Salman Khan's action bonanza days before its release were we, and now let us share our experience of watching this almost 3-hour-long action thriller in 3D.
Salman Khan's latest outing, 'Race 3', offers a dhamakedar package including glamour and style with A-listers, who surpass our expectations with their power-packed performances. The extravagant locations, beautiful locales, the mesmerising songs, the electrifying Chase and sizzling chemistry make for an international movie experience.
All in all, the movie is an A-rated piece with not just glam but also substance. The best part of the storyline is that the writing of Shiraz Ahmed is complete with a number of surprises and turns. It would be demeaning to point out nooks in the film, as it had everyone's eyeballs hooked to the screen from the minute it started. The one thing which is worth applauding is that every actor has been given enough screen space. The unique selling point of this extravaganza is that each character has grey shades; they indulge in dangerous games making it an exhilarating cinematic experience.
Ayananka Bose, the man who has made this film larger than life with stunning locations which take your breath away, deserves accolades as well. No one can doubt this man's cinematography skills. The beautiful localities of UAE are captured brilliantly by DOP. The high-octane action sequences are top notch with thrilling chase scenes which are neat. Talking about the music, it is very soothing, especially 'Selfish', which has been shot in serene place of India, Leh Ladakh. Coming to the dialogues, they are 'Seeti-Maar'.
Moving on to the performances, each actor has fairly done justice to their character sketches. But it goes without saying that Salman Khan is the soul and treasure of this action-thriller. The actor gets into the nick of his character and gives a hard-hitting act on-screen. Anil Kapoor is 'jhakaas' as always while Bobby Deol delivers a power-packed performance in his comeback film. Jacqueline and Daisy's action sequences are a sight to behold and their stunning outfits lured me to connect to their designers right away.
On the whole, Salman Khan's 'Race 3' is a perfect Eidi for everyone. And at the box-office, the movie is bound to rake in 100 cr over the weekend considering it is a festive one.
Directed By: Remo D'Souza
Produced By: Salman Khan, Ramesh Taurani
Cast: Salman Khan, Anil Kapoor, Bobby Deol, Jacqueline Fernandez, Daisy Shah, Saqib Saleem, Freddy Daruwala
Duration: 2h 46m
The Live Mirror Rating: 4/5
Watch the trailer here: