Chhattisgarh: At least 9 newly elected legislators inducted in Bhupesh Baghel's cabinet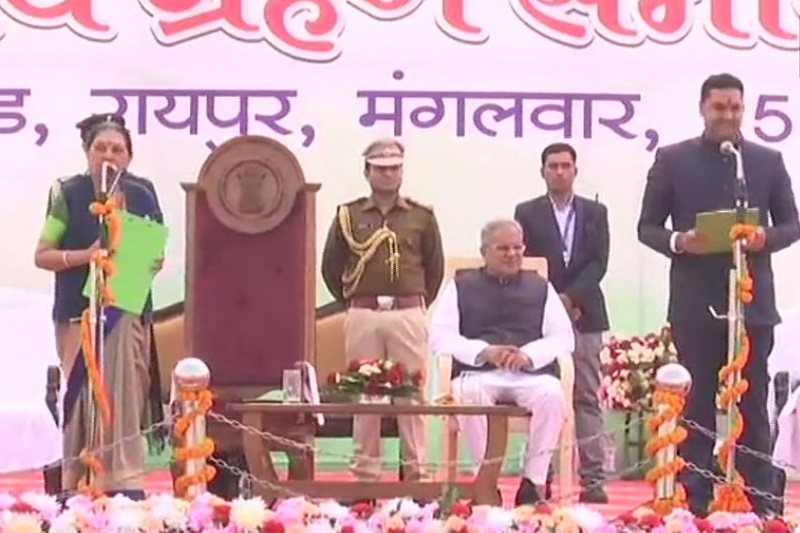 As many as 9 newly elected legislators of the Congress party on Tuesday took oath as ministers in the Chhattisgarh cabinet formation. Governor Anandiben Patel administered the oath to new ministers at Raipur's Police Parade Ground.
The list of Cabinet ministers sworn includes former Union minister Charandas Mahant, ex-minister in Madhya Pradesh government and senior leader Satynarayan Sharma, senior leader Mohammad Akhbar, former leader of Opposition Ravindra Chaubey, Amarjeet Bhagar, Kawasi Lakma and MLA Anita Bhedia. In the presence of Chief Minister Bhupesh Baghel, the ministers took oath in Hindi.
It is to be noted that the Congress has adopted the formula of giving representation to each of 11 Lok Sabha constituencies in the council. CM Bhupesh Baghel said, "The party has focused on the region-wise and community representation. Important leaders are covered keeping in mind next year's general election."
In the meantime, senior Congress leader Amitesh Shukla is upset with the party. He said, "I've come to know that my name is not in the list of people who'll be taking take oath as cabinet ministers today." "Our family has been associated with the Nehru-Gandhi family for the past three generations. I'll always expect justice from them," he said, accusing the party of being unfair.
As per the rule, the Chhattisgarh Cabinet can have a maximum of 13 ministers including the Chief Minister. The Legislative Assembly has 90 assembly seats. Portfolios of the ministers will be decided soon.
Baghel took oath as Chhattisgarh chief minister on December 17, after the Congress won the state assembly election with a thumping majority. Two other Congress legislators, T S Singh Deo and Tamradhwaj Sahu, were also sworn in as ministers on the day.
Also Read: Rajasthan: At least 23 newly elected legislators inducted in Ashok Gehlot's cabinet