Indonesia Tsunami update: Death toll rises to 373, over 100 still missing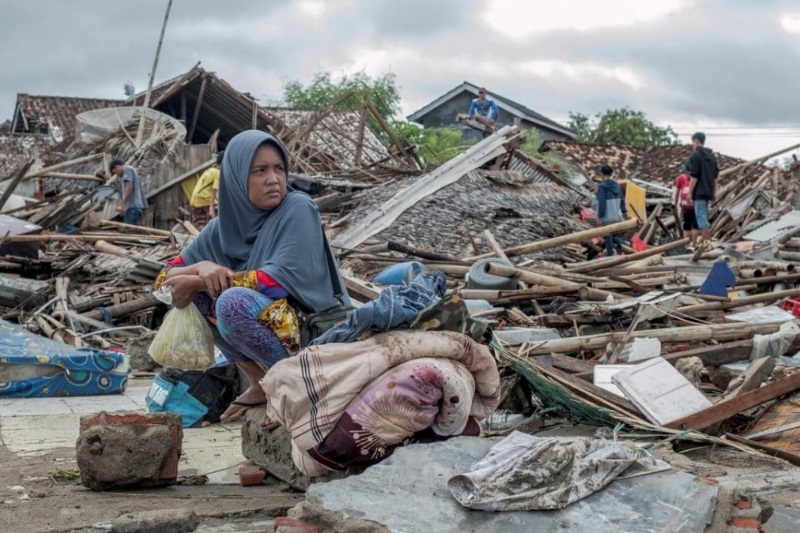 The death toll from a volcano-triggered tsunami in Indonesia has risen to 373, with over 100 people still reported missing.  Notably, Tsunami, which was caused by a volcano known as the "child" of the legendary Krakatoa, hit the coast around Indonesia's Sunda Strait on Saturday night.
In a statement, the Indonesian National Board for Disaster Management (BNBP) said that at least 1,459 injuries have been reported and 128 people are still reported missing. It further stated that so far 373 people died due to a volcano-triggered tsunami.
According to BNBP, over 1,000 structures, including 681 homes have been damaged or destroyed, and some parts of the Sunda Straits area remain without electricity.
The Meteorology, Climatology and Geophysics Agency (BMKG) reported an eruption of the Krakatoa volcano about 9pm Saturday local time, and the tsunami struck a short time later, about 9:30 pm. "The cause of the tsunami was due to a combination of undersea landslides after the eruption of Mount Anak Krakatoa and the tidal wave caused by the full moon," it added.
However, the Indonesian Geological Agency said that they can't confirm if the tsunami was triggered by the eruption of Krakatoa, since that mountain has been erupting since last June— with even greater strength — and never caused a tsunami.
In a statement, disaster agency spokesman Nugroho said that the casualties occurred in three regions— South Lampung in Sumatra and the Serang and Pandeglang regions of Java, west of the capital Jakarta— along the Sunda Straits. "More than 600 homes, 69 hotels, 60 shops and some 420 boats were damaged along with dozens of cars and other vehicles," he added.
Indonesia is one of the most disaster-prone nations on earth, straddles the so-called Pacific 'Ring of Fire', where tectonic plates collide and a large portion of the world's volcanic eruptions and earthquakes occur. Most recently in the city of Palu on Sulawesi island a quake and tsunami killed thousands of people.
In the year 2004, a tsunami triggered by a magnitude 9.3 undersea earthquake off the coast of Sumatra in western Indonesia killed 220,000 people in countries around the Indian Ocean, including 168,000 in Indonesia.
Importantly, Anak Krakatoa is a small volcanic island that emerged from the ocean half a century after Krakatoa's deadly 1883 eruption. When Krakatoa erupted in the 19th century, a jet of ash, stones and smoke shot more than 20 kilometres (12 miles) into the sky, plunging the region into darkness, and sparking a huge tsunami that was felt around the world. The disaster killed more than 36,000 people.
Also Read: Indonesia Tsunami update: Death toll rises to 281