Chris Evans' Fan Go Wild Over His Abs & Tattoos In Hot New Shirtless Video
Chris Evans Raises The Temperature As he Flaunts His Abs and Tattoos in Viral Video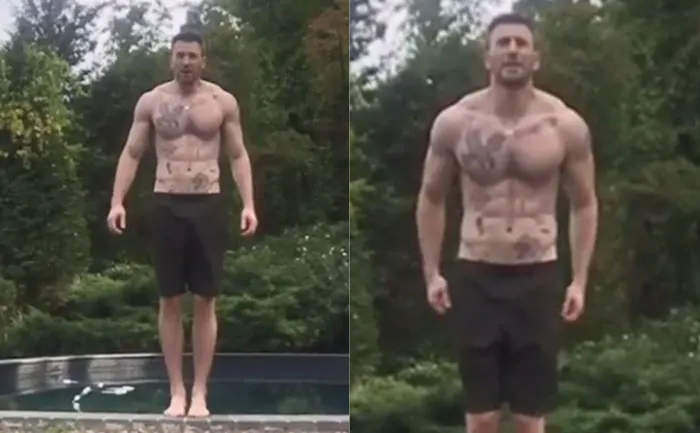 Hollywood hunk Chris Evans has set the social media on fire once again. The Captain America actor left his fans gasping for air with his latest Instagram Stories. The actor shared a video where he was seen standing on the edge of the pool, shirtless, preparing to perform a backflip into the pool.
In a brief clip, the 39-year-old showcased his impressively muscular physique and extensive tattoo collection before backflipping into his pool.
"Last swim before the pool hibernates…(It was freezing!)," the Captain America celeb captioned the footage. "I wonder what it's like to be tan."
Check out the viral video here:
Chris has a tattoo of a large hawk swooping in with talons open appeared across one of his pecs. Chris also had what seemed to be a large animal tattoo along his waistline. There are a number of small inkings on his stomach. He also has a Buddhist saying tattooed on his chest.
The video soon went viral with fans leaving comments. Check out fans reactions here:
Was anybody gonna tell me that Chris Evans has this much tattoos or was I supposed to discover that tonight and gasp so hard I choke on my own saliva pic.twitter.com/NkKPimjEnC

— Jefferson Starships (@aytimmaheadout) October 6, 2020
the duality of chris evans amazes me?? like he is the softest cutest man ever but also a complete badass who can backflip, has washboard abs, a v-line, and a shit ton of cool chest tattoos.. mkay pic.twitter.com/6XQl03odH0

— katie 🎃 (@cevansavenger) October 6, 2020
Where and when did Chris Evans get all of those tattoos??? 😨 pic.twitter.com/XFmchFcnPc

— Jassondra Lee (@ItsJassondra) October 6, 2020
I knew Chris Evans had some new tattoos but I didn't know my man was out here tatted up like THIS 👀😩 pic.twitter.com/oefvXamdvL

— Black Canary (@PlanetRoxy_) October 6, 2020
Also Read: Chris Evans accidentally leaks n*de photo on Instagram, Mark Ruffalo reacts