5 benefits of adding cinnamon in coffee for a delicious flavour and health quotient
Here's how adding cinnamon to your coffee can be best for your health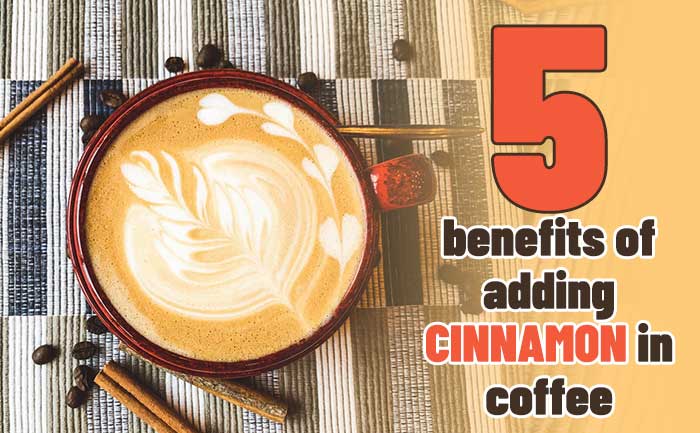 When we think about coffee we like to taste different varieties and flavours of coffee and not taste the same old coffee that we usually drink at a routine. There are many additions to coffee that one can try to drink something new instead of the usual black coffee or mocha. One such particular ingredient that you should think of trying adding in your coffee is cinnamon. Cinnamon is considered to be loaded with several health benefits and once you add it in your coffee it will not only bring out the best flavour but also will be good for your heart health.
Here are the health benefits of adding cinnamon in coffee:
1. Works best for cold and fever
Cinnamon can be good for health and also when you are having a cold or fever. In fact, Cinnamon or dalchini is one such hot winter spice that has antiviral, antibacterial compounds that helps best in keeping the immunity strong. Also, the spice has numerous anti-inflammatory properties that significantly helps relieve pain and discomfort which is caused by the flu. Take the most benefit of the cinnamon by adding it in your coffee.
2. Maintains blood sugar levels
Besides helping in reliving pain and discomfort during cold or fever, Cinnamon can also maintain blood sugar levels. All you need to do is add a pinch of cinnamon to your coffee and it will help in maintaining the blood sugar levels in the body. Moreover, Cinnamon has a delectable sweet flavour that would definitely not let you crave for sugar as well.
3. Aids Weight loss
Once you know that by adding cinnamon in your coffee, it can make you lose weight, you would absolutely try that. In essence, Cinnamon is considered to be an appetite suppressant. When you will add it in your coffee, it might induce a feeling of fullness as well as reduce cravings. Apart from this, it will help the hunger pangs at bay too and eventually give you weight loss.
4. Packed with Antioxidants
In general, coffee is high on antioxidants such as polyphenols which are known to control free radical activity that are responsible for dull skin and ageing. When you add cinnamon in your coffee, it takes up the antioxidant levels of your coffee higher. So why wait, try adding cinnamon in coffee and enjoy the health benefits.
5. Good for the heart
Whether you believe it or not but adding a dash of cinnamon to your coffee can be great for heart health. Even research suggests that cinnamon lowers the risk of developing heart-related ailments as well as illnesses. Although, what's best is that you consume both cinnamon and coffee in moderation. Else, too much caffeine is absolutely not good for heart health. Try this wonder spice in your coffee to enjoy its flavour and health benefits.
Also Read: 7 Interesting Health Benefits Of Drinking Pink Tea