CM Arvind Kejriwal held meeting at Delhi secretariat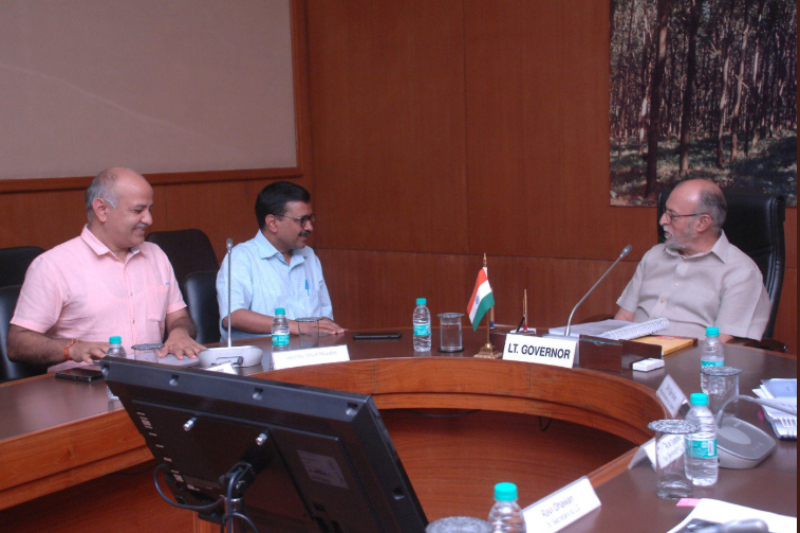 A day after the Supreme Court ruling on the ongoing tussle between the Centre and the elected Government of Delhi, Chief Minister Arvind Kejriwal today sought Lieutenant Governor Anil Baijal's "support and guidance" in implementing the apex court's order.
"All stakeholders need to work towards implementing the honourable Supreme Court order in its letter and spirit. I am writing this letter to seek your support and guidance in implementing it and working for the development of Delhi," Kejriwal wrote in his letter to the L-G.
Referring to the Supreme Court verdict, he added that L-G's "concurrence" would now not be required. In the letter, the Aam Aadmi Party (AAP) leader also stated that the Delhi government's latest order has been rejected by bureaucrats as "legally incorrect".
Also Read: Centre may file review petition of SC verdict on Delhi
CM Arvind Kejriwal and Manish Sisodia held a meeting with Delhi LG Mr. Anil Baijal at 3 pm and had a brief conversation about the govern and legislative power of the Delhi government.
"We met L-G and today, he is ready to cooperate with us. He has agreed that sending files is not required anymore, only the decisions will be made known to him. But he is not ready to cooperate on the matter of services….Supreme Court said that except three subjects, police, land and public order, Delhi government will have executive power on other subjects. LG does not agree that control of services should be handed over to Delhi government.," said Kejriwal.
The CM said that if this kind of situation continues, a situation of anarchy can emerge in the country.
The LG has agreed that files of Delhi Govt need not be sent to him, only the decisions will be made known to him. This will help clear a number of files which had been pending: Delhi CM Arvind Kejriwal after meeting LG Anil Baijal pic.twitter.com/Mj2SpHwL2R

— ANI (@ANI) July 6, 2018
"It is first time in history that central government is denying to obey the Supreme Court's order. If this continues, a situation of anarchy will prevail over the country," said the CM.
The CM also alleged that Center is not letting the AAP government appoint a full-time education director.
"Whole India is talking about Delhi's education model. There is no full time director in Delhi's education department. Centre is not letting us appoint a full time director even after SC ruling," said Kejriwal.