CoA is making a "spectacle of themselves", says Justice RM Lodha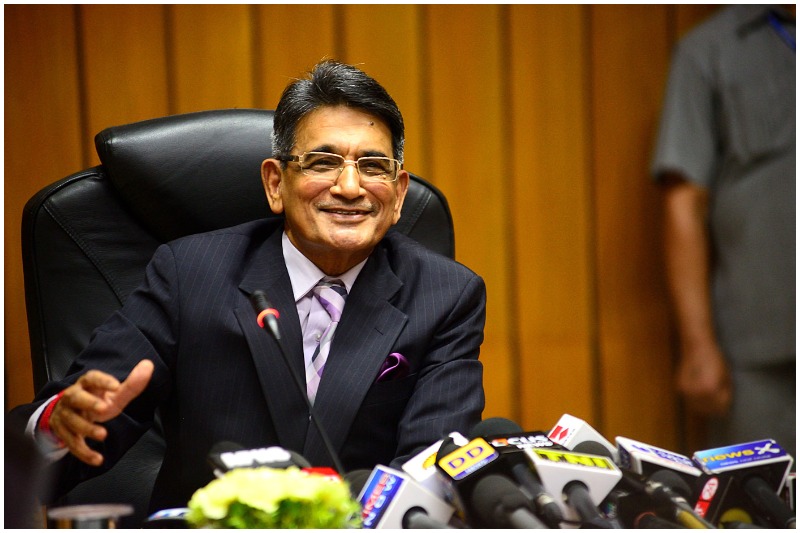 Justice (retd) RM Lodha said that the Vinod Rai and Diana Edulji-two halves of the Committee of Administrators are making a "spectacle of themselves" with their recent disagreements.
He also put things in place, that no one in the CoA was "superior or inferior, higher or lower" and it wasn't formed to work on the motto of "my way or the highway".
Lodha was referring to the recent spat between the two with Edulji alleging that Rai had overpowering opinions of picking the coach of the women's team head coach. In an email, Edulji backed the re-appointment of Ramesh Powar as head coach because T20I skipper Harmanpreet Kaur also supported his presence. To add weight, she also cited the example of Indian men's cricket team skipper Virat Kohli having his way with Ravi Shastri being named the head coach.
Said Lodha, as quoted by The Indian Express, "They are making a spectacle of themselves. It's a two-member committee so all the decisions have to be unanimous, no one is superior or inferior, higher or lower. If they aren't unanimous, status quo should be maintained till they are able to agree on something. This can't be 'my way or highway'".
He further stated that such disagreements which when escalate to high levels, questions the very reason for their existence–if they couldn't agree with each other, how would they have the BCCI and the state cricket associations implement the orders of the Supreme Court?
"If they can't convince each other and can't have a unanimous view, how can they ask the BCCI's state associations to implement the SC order? You can have multiple views but once you sit, you have to find a middle path. There is nothing like a veto power in this committee. This is just a two-member committee, this is not a Parliament where a Speaker is given a casting vote," Lodha questioned.
Also read: Virat Kohli's messages made Vinod Rai work for Anil Kumble's dismissal as head coach: Diana Edulji
He also wasn't a subscriber to the idea of the frequent use of emails for communication and instead suggested that they should meet every day if needed and solve their issues.
"I don't know why they are exchanging emails and putting things on record. They are members of the committee and should sit together, if required meet every day, and iron out the creases," the retired SC judge said.
He also that the duo should have asked for intervention from the court if they couldn't sort out their differences.
"If they can't function together, they should stop functioning and report to the court that this is the problem. They should tell the court that we can't get along. Can you ride a bicycle that has one truck tyre and other cycle wheel? The SC would have immediately made this a three or five-member committee, which would work on majority decisions," he opined.
Lodha was upset with the fact that the CoA had lost its direction and wasn't working on what it should have, i.e not following what the Supreme Court had directed them to do.
He explained," Unfortunately, they have involved themselves in all minor issues and this is the reason things have gone haywire. Their main job was the implementation of the SC order. It has been two years since the order was passed and the old BCCI officials continue to work. We wanted to get transparency in the BCCI, transform the entire management and governance structure, organise a players' association. Nothing has happened. They keep filing reports, what's the value of those reports?"
Lodha also had very little hopes of the CoA achieving the goals it was meant to do, adding that the body wasn't working the way it should have.
"It's really sad for me to see all this. You are virtually administering the entire board. If you continue to have divergent expressions on major issues that means the committee is not functioning the way it should. You can't play with an institution like this. I don't see light at the end of this tunnel," a dejected Lodha said.
Image credit-The Indian Wire