Congress, AAP mock BJP president Amit Shah over flag incident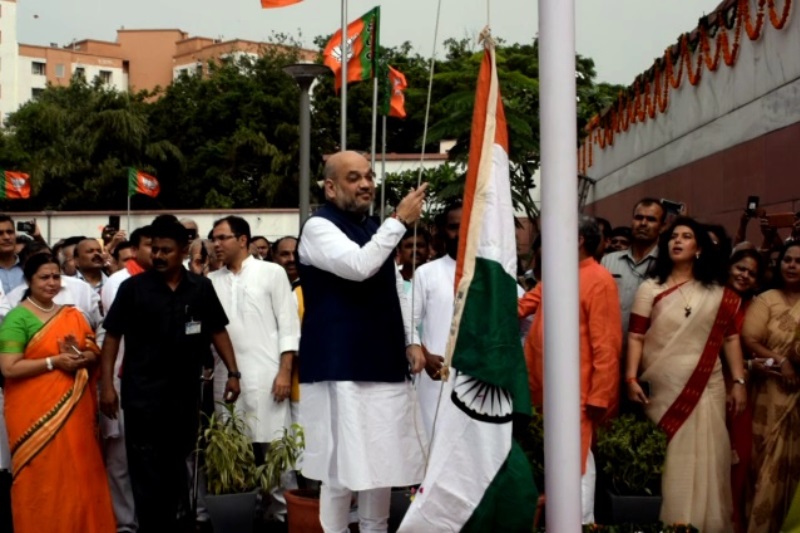 BJP Chief Amit Shah prepared to unfurl the tricolour flag at the BJP party headquarters in the capital on India's 72nd Independence Day. But something unfortunate happened, as Mr Shah pulled the string attached to the post for the hosting ceremony, the national flag fell to the ground.
The BJP chief was quick enough to pull the string again and hoist the flag and salute it.
However, the video of the glitch soon made it to social media and was picked up by the opposition parties, who welcomed the situation and were quick to mock the BJP Chief.
The Congress party's official handle shared the video on Twitter with the caption, 'Jo desh ka jhanda nahi sambhal sakte, woh desh kya sambhalenge (those who can't handle the national flag, how will they run the country)".
"Those who dole out certificates of patriotism don't know the right way to sing the national anthem," the tweet added.
जो देश का झंडा नहीं संभाल सकते, वो देश क्या संभालेंगे?

50 साल से ज्यादा देश के तिरंगे का तिरस्कार करने वालों ने अगर ये नहीं किया होता तो शायद आज तिरंगे का ऐसा अपमान न होता।

दूसरों को देशभक्ति का सर्टिफिकेट देने वालों को राष्ट्रगान का तौर-तरीका तक पता नहीं। pic.twitter.com/FmiEI5B7D7

— Congress (@INCIndia) August 15, 2018
Delhi Chief Minister Arvind Kejriwal was not far behind and targeted BJP, nature's game is amazing. There is no one as powerful as nature; all are small in front of nature.'
'Tell me, the tricolour refused to wave at Amit Shah's hands. Through this tricolour Bharat Mata is saying something – that she is sad.
प्रकृति का खेल भी अजब है। कोई कितना भी शक्तिशाली क्यों ना हो जाए, प्रकृति के सामने सब छोटे हैं।
बताइए, तिरंगे ने अमित शाह के हाथों लहराने से मना कर दिया। इस तिरंगे के ज़रिए भारत माता कुछ कह रही है – कि वो दुःखी है। https://t.co/BNNuyBGTKN

— Arvind Kejriwal (@ArvindKejriwal) August 15, 2018
Also Read: PM Narendra Modi Independence Day speech: 10 major takeaways