Rahul Gandhi hints Chhattisgarh CM issue settled, final announcement on Sunday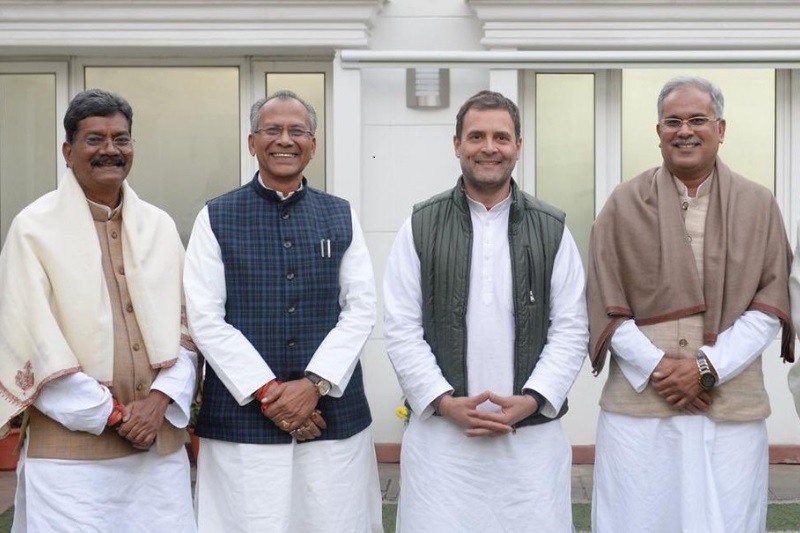 A day after choosing Ashok Gehlot and Sachin Pilot as Rajasthan Chief Minister and Deputy Chief Minister respectively, Congress President Rahul Gandhi on Saturday hinted that Chhattisgarh Chief Minister issue has been settled. According to reports, Congress will declare Chhattisgarh CM's name on Sunday, December 16.
On Saturday, Rahul Gandhi held multiple meeting with top party leaders and reportedly met Chhattisgarh's four contenders for the chief minister's post — Tamradhwaj Sahu, Bhupesh Baghel and Charan Das Mahant — at his Tughlaq Lane residence in the New Delhi.
It is to be noted that it was the third round of discussion that the Congress chief held before deciding on the top post for the state where the party is set to return to power after 15 years with a two-thirds majority.
Apart from UPA chairperson Sonia Gandhi and her daughter Priyanka, Congress' central observer Mallikarjun Kharge and AICC in-charge for party affairs in the state P L Punia were also present at the meeting. Indian Express Sources, however, said that the decision is likely to be taken on Sunday.
Meanwhile, the Congress' newly-elected MLAs in the state are likely to hold a meeting later today. The Congress had comfortably secured a majority in the Chhattisgarh Assembly after winning 68 seats in the 90-member House.
No matter how brilliant your mind or strategy, if you're playing a solo game, you'll always lose out to a team.

– Reid Hoffman pic.twitter.com/TL5rPwiCDX

— Rahul Gandhi (@RahulGandhi) December 15, 2018
Taking to Twitter Rahul Gandhi quoted Reid Hoffman: "No matter how brilliant your mind or strategy, if you're playing a solo game, you'll always lose out to a team."
Also read: Congress opts for Ashok Gehlot over Sachin Pilot for Rajasthan Chief Ministerial post