Congress opts for Ashok Gehlot over Sachin Pilot for Rajasthan Chief Ministerial post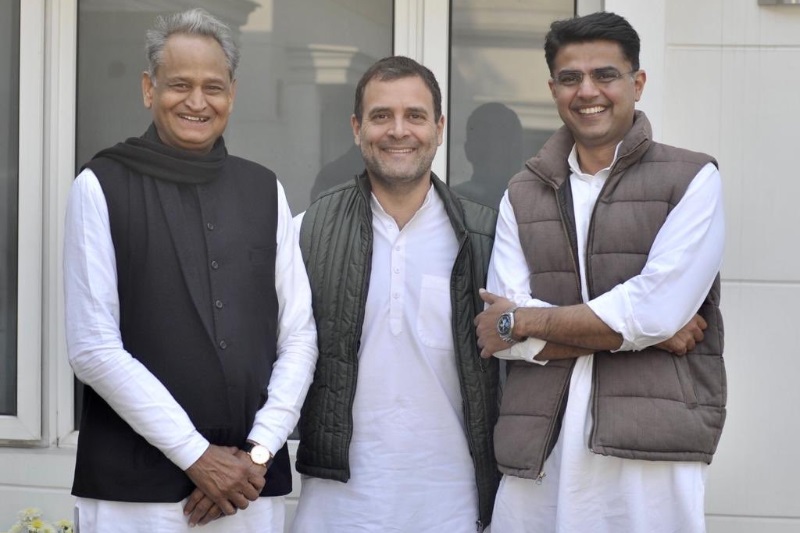 After registering a landmark victory in the recently held Rajasthan Assembly election, the Congress party on Friday declared Ashok Gehlot as the Chief Minister of the state.
Ashok Gehlot, a seasoned-leader having reputation of keeping the flock together, will take over the Chief Minister's mantle for the third time in Rajasthan. On the other hand, young leader Sachin Pilot will be deputy chief minister of Rajasthan. However, Sachin Pilot will continue as the Rajasthan Congress chief."
In a press statement, All India Congress Committee observer for Rajasthan, KC Venugopal said, "Congress President Rahul Gandhi has decided to appoint Ashok Gehlot Ji as the Chief Minister of Rajasthan. Sachin Pilot will be the Deputy Chief Minister of Rajasthan."
Talking to media, Rajasthan Deputy chief minister designate Sachin Pilot said, "I would like to thank Congress President Rahul Gandhi and other legislators for taking this decision to make Ashok Gehlot Ji the Chief Minister of Rajasthan."
It is to be noted that Rajasthan Congress chief Sachin Pilot was one of the most trusted leaders and ahead in the race for chief ministerial post but Congress opted for Ashok Gehlot to do the top job in the state.
Earlier in the day, Congress president Rahul Gandhi dropped a big hint that the tussle for the post of Rajasthan chief minister was over. He tweeted a photo with Ashok Gehlot and his rival for the top job, Sachin Pilot, all three grinning. However, it was a replica of his photo to announce the Madhya Pradesh detente last evening.
The united colours of Rajasthan! pic.twitter.com/D1mjKaaBsa

— Rahul Gandhi (@RahulGandhi) December 14, 2018
Ashok Gehlot is currently Congress's national general secretary and in-charge of organisations and training. He was the Chief Minister of Rajasthan from 1998 to 2003 and again from 2008 to 2013. He represents Sardarpura constituency of Jodhpur as Member of Legislative Assembly of Rajasthan.
Born on May 3, 1951, in Jodhpur, Gehlot is a science and law graduate and also holds a master's degree in economics. He is married to Sunita Gehlot and has two children — son Vaibhav and daughter Sonia.
Also Read: Congress to declare Ashok Gehlot as Rajasthan Chief Minister soon