'Friends' actors Courteney Cox and Lisa Kudrow reunite for 'Celebrity Escape Room'
'Friends' stars Courteney Cox and Lisa Kudrow are all set to reunite for a new television show later this month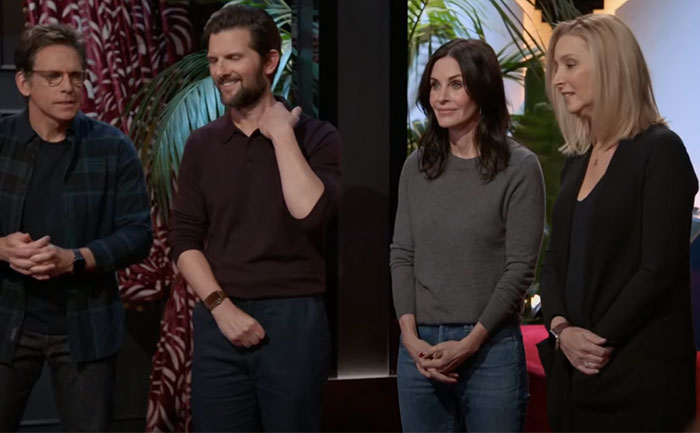 'Friends' actors Courteney Cox and Lisa Kudrow are all set to reunite for a new television show called 'Celebrity Escape Room' that will launch 'Red Nose Day' USA on Thursday, May 21, 2020, on HBO Max.
Initially, the 'Friends' reunion was anticipated air at this time of the year, unfortunately, due to the ongoing coronavirus crisis, the reunion has been delayed. Instead, a small reunion between the two actresses will be witnessed in this show. Apart from Cox, Kudrow, Adam Scott, Ben Stiller, and Jack Black will also be a part of this television show.
Watch the trailer here:
Jack Black who also serves as executive producer, announced in the trailer, says, "It's a battle of wits: you against the room,"  As Scott noted, "He is diabolical."
"The moment I walked in, I was scared, then I remembered Jack was in charge, and I got really scared," Cox said. Kudrow added, "I don't remember anything 'cause there were loud noises, and it gave me amnesia."
The show sees host Jack Black putting his celebrity friends to the examination as they're forced to work together under extreme load to resolve their escape room, opening a series of extraordinary puzzle rooms against the clock in a bid to make their escape.
The show has been executive produced by Ben Stiller, who will also be inside the escape room itself alongside Cox, Kudrow, and Adam Scott. Celebrity Escape Room will start off a three-hour block of programming for Red Nose Day, NBC's year-long campaign to raise supplies for child poverty through entertainment.
 'Celebrity Escape Room' will kick start on Thursday, May 21 at 8 p.m. on NBC.