COVID-19: Miami Beach Extends Curfew To Control Spring Break Crowd
COVID-19: Miami Beach Extends Curfew To Control Spring Break Crowds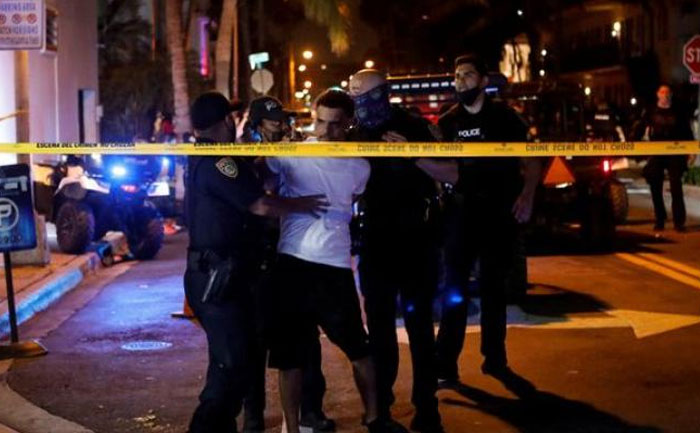 Despite the COVID-19 surge, throngs of revellers flocked Miami Beach in Florida for spring break. The large number became so uncontrollable that authorities declared a state of emergency. They also imposed a curfew to send the message across. The enforcement actions came just hours after Miami Beach Mayor Dan Gelber declared a state of emergency. He also set an 8 p.m. curfew.
It is now past the 8pm curfew on #MiamiBeach and these are the crowds. @WPLGLocal10 pic.twitter.com/UBaZ7gGBD2

— Roy Ramos (@RRamosWPLG) March 21, 2021
But, hundreds of mostly maskless people remained in the streets well after the 8 p.m. curfew. The 8 p.m. curfew and road closures in the city's entertainment district will be in effect until Tuesday.
Police soon opened fire with pepper balls into the crowd, causing a stampede of people fleeing. In a statement the police said in Miami Beach, they arrested at least a dozen people following the start of the curfew.
A man, with his face painted like the Joker, stood on top of a car yelling "Covid's over, baby!" while waving an American flag, in a video posted to Twitter.
2021 bringing the pain! #miamibeach #covid pic.twitter.com/tJZSca178k

— Jason Machado (@jmachado125) March 21, 2021
In addition to the curfew, the three bridges that connect the Miami Beach island to mainland Miami will now be closed to traffic from 10:00 pm to 6:00 am. Only residents, workers and hotel guests will have access.
Miami police blocked off all the highways to Miami Beach. #MiamiBeach #MiamiSpringBreak #SouthBeach pic.twitter.com/btDhviVhjs

— p (@peeeige) March 22, 2021
The Clevelander South Beach, announced Friday that it was closing its restaurants and bars to curb the spread.
Also Read: Coming 2 America: Eddie Murphy Is Back As King Akeem