Anti-lockdown protests in London 36 Arrested After Clash With Police
Anti-lockdown protests in UK: 36 arrested after demonstrators clash with police in London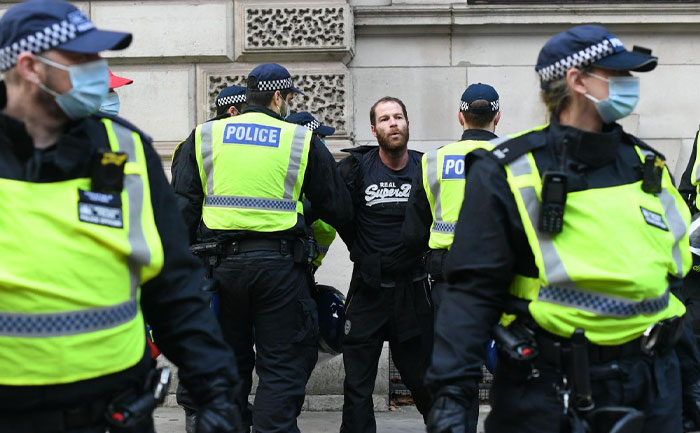 The London police arrested dozens of people on Saturday amid the Anti-Lockdown protest in the city. Thousands had turned out in the British capital to protest against ongoing coronavirus lockdown restrictions. The ongoing protests began at lunchtime with many gathering at Hyde Park.
Wow! What an incredible turnout! Hard to gauge exact numbers, but I reckon up to 100k people gathered today.
So proud of everyone who attended! Thank you. #wewillALLbethere #WeDoNotConsent#londonprotest pic.twitter.com/iCWyxfHoZd

— We Will Be Free (@WeWillBeFree82) March 20, 2021
Demonstrators paraded banners and lit flares as they walked from Hyde Park along Oxford Street to Chancery Lane. From there they moved onto the Embankment and Parliament Square before heading up Whitehall. Scotland Yard said 36 people had been arrested by 6.45pm, most for breach of Covid regulations.
Deputy assistant commissioner Laurence Taylor said that several police officers were assaulted and injured. This happened due to the bottles and other missiles thrown from the crowd. It is totally unacceptable and saddening that officers enforcing regulations were the victims of violent attacks.
Similar demonstrations took place in Manchester. Hundreds of people gathered outside the National Football Museum before marching to Greater Manchester Police's headquarters. They claimed that the lockdown was a "crime". There were no reports of any arrests in Manchester
England's COVID-19 lockdown measures have been in place since early January. The PM had imposed the restriction when Britain saw a surge in infection rates, hospitalisations and deaths. But since then the situation has improved. Prime Minister Boris Johnson last month outlined a gradual easing of the restrictions. But with the stringent stay-at-home order set to end later this month.
Also Read: London: New £5 Coin To Commerate Queen's 95th Birthday