Will Cristiano Ronaldo Hit a Rough Patch in 2021? Hirav Shah Predicts
Birthday Predictions: Will Cristiano Ronaldo Hit a Rough Patch in 2021? Hirav Shah Predicts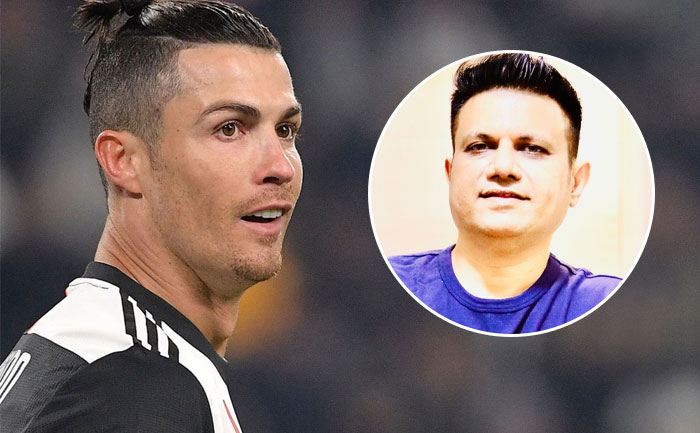 Cristiano Ronaldo, born 5 February 1985, is a Portuguese professional footballer who plays as a forward for Serie A club Juventus and captains the Portugal national team. Often considered the best player in the world and widely regarded as one of the greatest players of all time,
Here is all you need to know about him:
Ronaldo has won five Ballon d'Or awards and four European Golden Shoes. He has won 31 major trophies in his career, including seven league titles, five UEFA Champions Leagues, one UEFA European Championship, and one UEFA Nations League title. Ronaldo holds the records for the most goals (134) and assists (41) in the history of the UEFA Champions League. He is one of the few recorded players to have made over 1,000 professional career appearances and has scored over 770 senior career goals for club and country. He is also the second male to score 100 international goals and the first European man to achieve the feat.
Born and raised in Madeira, Ronaldo began his senior club career playing for Sporting CP, before signing with Manchester United in 2003, aged 18. After winning the FA Cup in his first season, he helped United win three successive Premier League titles, the UEFA Champions League, and the FIFA Club World Cup; at age 23, he won his first Ballon d'Or. In 2009, Ronaldo was the subject of the then-most expensive association football transfer when signed for Real Madrid in a transfer worth €94 million (£80 million). There, he won 15 trophies, including two La Liga titles, two Copas del Rey, and four UEFA Champions League titles, and became the club's all-time top goalscorer. After joining Madrid, Ronaldo finished runner-up for the Ballon d'Or three times, behind Lionel Messi – his perceived career rival – before winning back-to-back Ballons d'Or from 2013–2014 and again from 2016–2017. After winning a third consecutive Champions League title in 2018, Ronaldo became the first player to win the trophy five times. In 2018, he signed for Juventus in a transfer worth an initial €100 million (£88 million), the highest fee ever paid by an Italian club and the highest ever paid for a player over 30 years old. He won the Serie A title in his first two seasons with the club.
Ronaldo made his senior international debut for Portugal in 2003 at age 18 and has since earned 170 caps, including appearing and scoring in ten major tournaments, becoming Portugal's most capped player and his country's all-time top goalscorer. He scored his first international goal at Euro 2004 where he helped Portugal reach the final and assumed the full captaincy of the national team in July 2008. In 2015 Ronaldo was named the best Portuguese player of all time by the Portuguese Football Federation. The following year he led Portugal to their first triumph in a major tournament by winning Euro 2016 and received the Silver Boot as the second-highest goalscorer of the tournament.
One of the most marketable and famous athletes in the world, Ronaldo was ranked the world's highest-paid athlete by Forbes in 2016 and 2017 and the world's most famous athlete by ESPN from 2016 to 2019. Time included him on their list of the 100 most influential people in the world in 2014. Ronaldo is the first footballer, as well as only the third sportsman, to earn $1 billion in their career.
Future of Cristiano Ronaldo in 2021:
Cristiano's birth number is 5, which is ruled by Mercury.
His destiny number is 0+5+0+2+1+9+8+5= 30, which is ruled by Jupiter.
Cristiano Ronaldo is entering the 37th year of his life, 3+7= 10, 1+0= 1 which is ruled by the Sun.
Cristiano Ronaldo's zodiac sign is Aquarius and is ruled by Saturn.
2021 adds to 5 and his Birth number also 5.
5 and 6 are the lucky numbers for Birth number 5.
"2021 is going to be the best year for Cristiano Ronaldo. Planetary influences may allow him to give the productive and highest level of his performance during the first half of the year 2021, says Sports Astrologer Hirav Shah.
Wishing one of the greatest legends of football, Cristiano Ronaldo, a very Happy Birthday.
Also Read:  Union Budget 2021 Verdict: Astro Analysis by Hirav Shah