Dabangg 3 Movie Review: This Salman Khan film has blockbuster written all over it
If you're up for fun Dabangg 3 is purely tongue-in-cheek, this will give you bangs for your buck.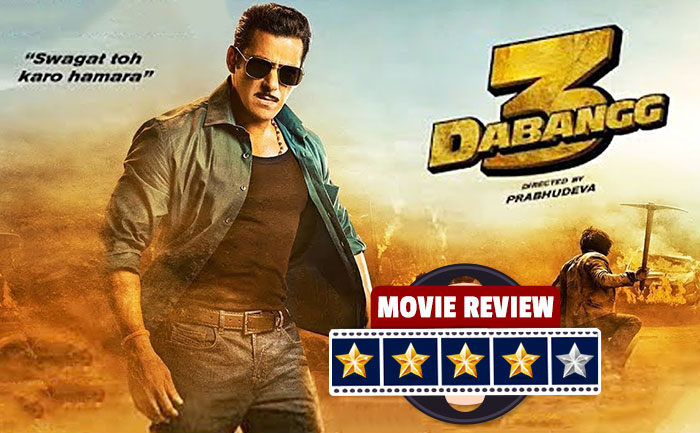 Director: Prabhudeva
Producer: Salman Khan and Arbaaz Khan
Cast:  Salman Khan, Sonakshi Sinha, Kiccha Sudeep and Saiee Manjrekar
Rating: 4/5
Salman Khan's much awaited movie Dabangg 3 is all finally hit the theatre today (20th December 2019). However we have watched the film and here we bring you honest Dabangg 3 movie review.
Dabangg 3 is surely a better film than the second instalment. Its tighter with crisp editing and engaging plot line. The movie features mind blowing action sequences, excellent detailing and everything that Salman fans expect to see in his movies. Preity Zinta takes Salman Khan's #SayItLikeChallenge
The film will keep you engaged throughout and has a good dose of peppy and romantic songs. Salman's dance steps will make you wish you could join him right away. Yes, its that good.
In this festive season, all we need is a good entertaining film to watch with our near and dear ones . Dabangg 3 is exactly that kind of family-entertainer. Dabangg 3 Box Office Collection Day 1
When you are watching Salman's film all you need to do is sit back and enjoy. And let me tell you, the superstar won't disappoint you even for a minute. In every single frame, your eyes will be glued to him. After all Bhaijaan's charm and aura are undeniable. So just sit back and savour the star power of the actor and forget everything else. 
Dabangg 3 being the prequel of Dabangg, revolves around the back story of Chulbul Pandey, who is extremely naive. The film takes us through his evolution into the Dabangg Robinhood Pandey.
Prabhudeva's direction is praiseworthy as he maximises the entertainment quotient, maintains balance and tells the story of Chulbul Pandey in the most engrossing way. The only drawback of the film is its 2 hours and 38 minutes run time.
Speaking about the rest of the cast, Sonakshi Sinha looks stunning throughout the film and she has done complete justice to her character, Rajjo. Newbie Saiee Manjrekar too impresses with her spontaneity and spunk. She will really impress you with the way she brings Khushi to life.
When it comes to the antagonist, which is played by Kiccha Sudeep, he gives a very tough competition to Chulbul Pandey. Only Sudeep could have matched the aura of Salman and he will literally blow you away with his powerhouse performance.
Dabangg 3 surely has entertainment and blockbuster written all over it.
Do you seriously need any more reasons to watch Dabangg 3?