Daily Horoscope 10th June 2021: Check Astrological Prediction For All Zodiac Sign
Check out today's Horoscope for all the zodiac signs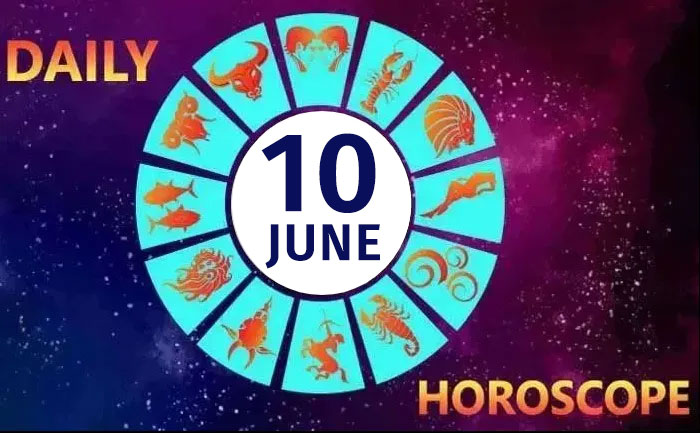 Horoscope Today, June 10, 2021: IF TODAY IS YOUR  BIRTHDAY: Your lucky number is 1.  As a June 10 born, you tend to be vulnerable and find value in family and family traditions.  Your cheerful attitude contributes to your childlike idealist view on love and romance. You have great communication skills. People born on June 10th have an inborn sense of enthusiasm, versatility, and sense of adventure. Lucky colour and lucky numbers for June 10 born are Off White and  4, 100, 50, 48, and 2.
In this article, we have brought you today's astrological predictions for all the sun signs like Gemini, Scorpio, Leo, Taurus, Cancer, and others. Check out the astrological prediction for all zodiac signs.
 

Horoscope Today, June 10, 2021: Check today's astrological prediction from all sun signs.
Daily ARIES Horoscope:
New beginnings and possibilities of a bright future for you. Good things will come your way. You may even feel somewhat swept off your feet!  You shall shine in terms of work as well as romance. With the stars in your favour, you may either end up getting promoted or you can meet your 'One'. The lucky colour today is caramel and the lucky number is 3.
Daily TAURUS Horoscope:
Today is a grateful day. Be thankful for everything around you. This will determine your success rates. You can also cut some slack in your workplace. That relaxation will aid you in performing better in the future. The lucky colour today is blue and the lucky number is 2.
Daily GEMINI Horoscope:
Your evening may be more laid-back as you will find breathing space to relax with your loved ones than at work today. Whenever you feel your inner energy whipping around like an internal hurricane, stop and spend two full minutes focusing on your breath. The lucky colour today is sea green and the lucky number is 1.
Daily CANCER Horoscope:
Now is the time to set your priorities in life and think about ways to achieve your goals. You are not afraid to try but that is going to improve your life at work. You are going to have a super positive outlook on the things around you. That will help you succeed in every venture. The lucky colour for today is grey and the lucky number is 10.
Daily Horoscope LEO:
Today you and your life should seem sorted. Your friends and you are on the same page. You are in a mood to make up for the follies you have made before. Thanks to your expertise in your field of work, some good news in the workplace is sure to bring you some monetary gains. The lucky number today is 8 and the lucky colour is gold.
Daily VIRGO Horoscope:
Your confidence and energy are high. You're unstoppable today. You may also get an opportunity to make an investment in some new project or a new venture altogether. Your finances look good. So you can indulge yourself to some self-pampering. The lucky colour today is golden and the lucky number is 11.
Daily LIBRA Horoscope:
Today you are meant to put a smile on your own face. But at the cost of wrong choices, you can easily destroy your future. Ensure that you do things with a very focussed yet calm mindset. There are chances of you giving your heart to someone. the lucky number today is 5 and the lucky colour is amber.
Daily SCORPIO Horoscope:
You are in a jovial mood. Do the things rights that are put across your way rather than making plans about what you should have done. You may benefit from the purchase of land, property, or commercial premises. Pamper yourself as today is a good day. Your lucky number is 4 and the lucky colour is black
Daily SAGITTARIUS Horoscope:
You are in a celebratory mood today and up for new beginnings. But be careful. Don't buy stuff because they look pretty but buy only because you need it. Getting into financial trouble will dampen the happy mood. Your lucky colour today is white and the lucky number is 12.
Daily CAPRICORN Horoscope:
Today you need to stay focused. You can easily be successful in your work if you pay a bit more attention to it. You also want to complete the tasks at hand before starting something new.  You may be feeling a little confused and worried regarding your financial condition. The lucky colour today is yellow and the lucky number is 6.
Daily AQUARIUS Horoscope:
There is a good chance that you may meet people from various walks of life from where you can learn a new thing. You have great skills in communication and that will come with special aid. But when it comes to finances, it isn't the best day. Stay away from shopping if possible. The lucky colour is cream and the lucky number is 7
Daily PISCES Horoscope:
You are as brave as a lion and in a very cheerful mood. Your levels of excellence are determined by the cheeriness in your life. Also, when you may be chilling out with your friends, keep your eyes open because you may meet someone who can change your career path for the better. the lucky number today is 9 and the lucky colour is brown.
ALSO READ: Gemini Love Horoscope 2020: Personality, Traits, Compatibility & Celebs Born Under This Zodiac Sign