Daily Horoscope 10th Sept 2021: Check Astrological Prediction For All Zodiac Signs
Daily horoscope 10th September. Check out today's Horoscope for all the zodiac signs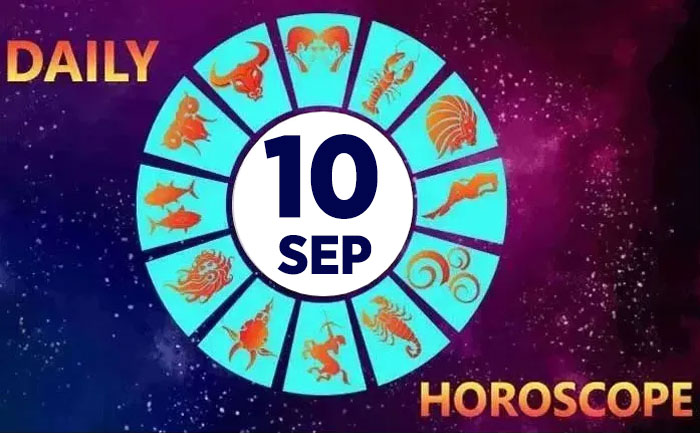 Daily Horoscope 10th September 2021: IF TODAY IS YOUR BIRTHDAY: Your lucky number is 2. Love is a hot topic for you on your birthday, as you open up to new possibilities and options. Now is the time to get out there and socialize, accepting as many invitations as you can. Whether you are single or partnered, you have an opportunity to enjoy a heightened sense of passion and romance now. As you take a chance on love, trying new things, and entertaining new ideas, you will find that your whole life is reenergized as a result. Your lucky colors are white, green, and cream. Your lucky dates are 2, 6, 7, 9, 11, 16, 19, 20, 25, 29.
Horoscope for September 10: Check today's astrological prediction
Daily ARIES Horoscope:
Today family members might be less than honest with you, Aries, particularly regarding working around the house. Don't be surprised if you hear excuses! This could be irritating, but don't let it get to you. Let the chores go. Do something you enjoy. It's more fun than taking out the trash.
Lucky Colour: Purple
Daily TAURUS Horoscope:
You are determined to take the blame for a friend's mistake. But do consider its consequences. There may be serious legal involvement as well. Some life-changing events may also happen which will give you an unforgettable experience. Fulfill your desire to look different, change your hairstyle or wardrobe!
Lucky Colour: Dark Red
Daily GEMINI Horoscope:
Some equipment at home that you usually take for granted might go haywire today, Gemini. More than one machine may not work as well as it usually does. This could prove frustrating, but don't get impatient and fix it yourself. Call a professional or things could get even more fouled up than they are.
Lucky Colour: Dark Blue
Daily CANCER Horoscope:
The day is perfect for showing your talents. You may act more aggressive or assertive than you generally do and this is going to surprise the people around you. They will be put out of balance and will probably have to revise their opinions about you. This element of surprise can provide you with a much-needed edge. Be sure to utilize this to the fullest extent.
Lucky Colour: Golden
Daily LEO Horoscope:
Confusion surrounds financial matters today, Leo. Someone close to you could be hit with unexpected expenses, and this person might ask you for a loan. You'll want to help out, but no matter what they say, it doesn't look like their situation is going to improve anytime soon. If you decide to lend them money, accept that you won't see it again for a while.
Lucky Colour: Saffron
Daily VIRGO Horoscope:
This is the perfect time to implement your creative ideas and expand your thinking. Enroll yourself in some intellectual pursuits or vocational training which will help you to take an edge over the others. However, you may be subjected to some financial problems while striving to pursue the same.
Lucky Colour: Electric Grey
Daily LIBRA Horoscope:
You may have been exercising too enthusiastically over the past few days, Libra, and today you might wake up with more than your share of muscle aches and pains. You should keep exercising, but tone it down. Forget jogging and aerobics. Go for a little yoga or tai chi, which will enhance fitness with minimal strain. If you can soak in a warm tub later.
Lucky Colour: Silver
Daily SCORPIO Horoscope:
Be the first one to take the initiative and you will be the first one to receive the credits. Just be a little careful of not over-exerting yourself or pressing hard on certain issues of least relevance. Do not hurt others by blurting out something which they donメt like! They may irritate you unintentionally and without realizing even that they are actually doing it.
Lucky Colour: Light Blue
Daily SAGITTARIUS Horoscope:
There could be some confusion, discord, and upset in the air today. There may be arguments and misunderstandings among friends and family. Try not to add fuel to the fire. If a person is getting a little hot under the collar, just listen. Be understanding and empathetic instead of trying to prove that you're right, especially if you are!
Lucky Colour: Lavender
Daily CAPRICORN Horoscope:
People are very much receptive to your charming ideas at this point in time. You must leave no chance to make people yield to your wishes. Keep your controlling attitude in check which can work against you if left unchecked. You may receive some unexpected news from a close one so keep your mind open to it.
Lucky Colour: Lilac
Daily AQUARIUS Horoscope:
Malfunctions on the part of computers, ATMs, and phone systems could interfere with financial transactions today, Aquarius. You might have to pay for purchases in an old-fashioned way – cash or checks. This isn't a good day to begin or complete any major financial transactions.
Lucky Colour: Coffee
Daily PISCES Horoscope:
You need to be humble to endear yourself to your friends. You may have assumed an arrogant attitude without even being aware of it. So, this is the best time to start analyzing your past activities rather than criticizing others. It is a rare opportunity for introspection for you and you should take full advantage of this reflective mood to get closer to yourself.
Lucky Colour: Royal Blue
ALSO READ: Daily Horoscope 9th Sept 2021: Check Astrological Prediction For All Zodiac Signs