Daily Horoscope 9th Sept 2021: Check Astrological Prediction For All Zodiac Signs
Daily horoscope 9th September. Check out today's Horoscope for all the zodiac signs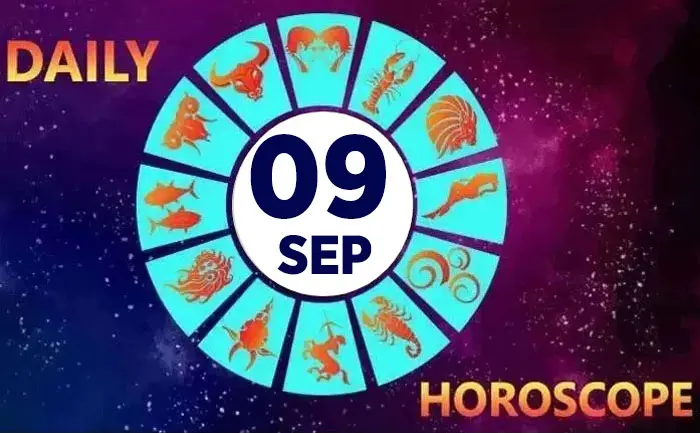 Daily Horoscope 9th September 2021: IF TODAY IS YOUR  BIRTHDAY: Your lucky number is 9. Your birthday will begin a time of clarity and progress in your life, as an open path starts to unfold in front of you. Now you can see exactly what you need to do to move forward. At the end of October, you will finally make a decision that you may have been putting off for a while. Your lucky colors are red and pink. Your lucky dates are 6, 9, 14, 15, 18, 24, and 27.
Horoscope for September 9: Check today's astrological prediction
Daily ARIES Horoscope:
Today you might want to try something completely new, Aries. If you've never done this before, why not try expressing yourself through dance? Even if you're convinced you to have two left feet, you might be surprised. Whatever your style, there's a type of dance you can do, whether it's as simple as the twist or as flamboyant as flamenco. You'll feel great, and it's good exercise.
Lucky Colour: Blue
Daily TAURUS Horoscope:
Today, you will be filled with the urge to do something and impress others. You will be able to take strong and decisive actions and your sense of timing is implacable right now. You will be able to clear your old debts and obligations now. You may help someone close to you by the virtue of your quick thinking.
Lucky Colour: White
Daily GEMINI Horoscope:
Gemini, you may discover today that you have a talent for something you've never even thought about before. If you always stick to what you know, how will you ever experience anything new? Trying this unexplored area doesn't mean you have to excel in it. As long as you're completely absorbed and having fun, you'll enjoy a positive experience. Don't shy away from this. Go with it!
Lucky Colour: Cream
Daily CANCER Horoscope:
Life has been full of ups and downs lately. But soon you are going to get rid of all these. Maintain your optimistic attitude like always and things will work out better. People may approach you for help and this is good, being busy will make you forget all your worries.
Lucky Colour: Light Blue
Daily LEO Horoscope:
Today brings the opportunity to see things as they are and not as you'd like them to be. It's easy to fool yourself sometimes, but you can only get away with that for so long before the truth comes out. There comes a time when you need to face things. Any time is an excellent time to start fresh. Take your time and trust in yourself.
Lucky Colour: Golden Brown
Daily VIRGO Horoscope:
You will be in a trusting and confiding mood today. The danger of this is you may end up confiding in a person who does not have your best interest at heart. So, be sure of the person before you unburden your soul to him or her. If you have been having a disagreement in the last few days ヨ whether at home or at work, today is a great day to extend the olive branch.
Lucky Colour: Lemon
Daily LIBRA Horoscope:
You probably have a knack for listening to other people and noticing when they need help or a shoulder to cry on, Libra. Today may be excellent for you to help another person out. Consider going the extra mile by lending a hand to those around you who are in need. Show your extraordinary caring ability and be a true friend. Make someone smile.
Lucky Colour: Tan
Daily SCORPIO Horoscope:
There is some personal happening in your life that is holding you back and hampering your progress. Try to sort out these things if you really want to save yourself from some serious trouble. Try to question the worth of relations; worthiness may be a deciding factor in terms of the input you must give to the relation. ᅠᅠᅠᅠ
Lucky Colour: Light Red
Daily SAGITTARIUS Horoscope:
Today's a good day to work toward the goals you've set, Sagittarius. The aspect of the day influences your ability to focus on the necessary steps to achieve what you want. No goal is too big! Each step you take toward it will give you focus and improve your life. As time goes by, you'll discover that what previously seemed out of reach is now within your grasp.
Lucky Colour: Navy Blue
Daily CAPRICORN Horoscope:
You may embark on an unlikely partnership today. It will provide you with romance, thrills, and adventure, but whether it will be successful in its quest still remains to be seen. Help and support may come from a completely unexpected sector. However, this opportunity will open up only for a short period of time. So, you need to be quick and decisive.
Lucky Colour: Dark Slate Grey
Daily AQUARIUS Horoscope:
If someone you know is going through a rough time, Aquarius could come to you for support or advice. People see you as genuinely concerned and a good friend, especially when times are tough. You've probably earned their respect through your caring and helpfulness. By being such a good friend, you're surrounded by people who will be there for you when you need them.
Lucky Colour: Peach
Daily PISCES Horoscope:
You are feeling confident and happy and this shows in your attitude and body language. People today are going to notice you wherever you go and you are likely to make quite an impression. Important business meetings will go in a positive direction. Even if a certain situation appears dicey, you will be able to bring others around to your viewpoint and get things done your way.
Lucky Colour: Off White
ALSO READ: Daily Horoscope 8th Sept 2021: Check Astrological Prediction For All Zodiac Signs