Daily Horoscope 12th Sept 2021: Check Astrological Prediction For All Zodiac Signs
Daily horoscope 12th September. Check out today's Horoscope for all the zodiac signs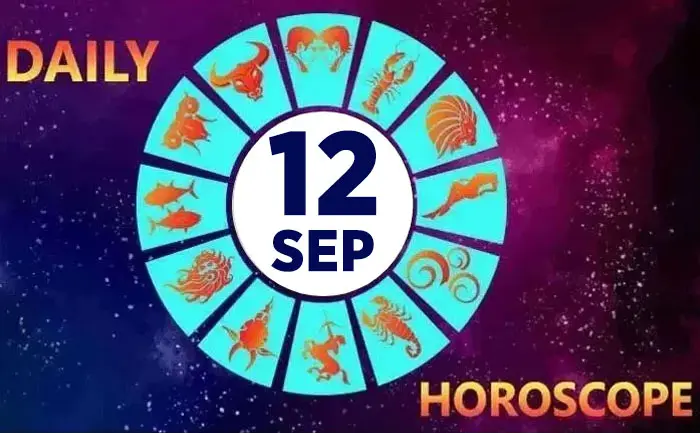 Daily Horoscope 12th September 2021: IF TODAY IS YOUR  BIRTHDAY: Your lucky number is 3.  Virgos born on September 12 are much more jovial and relaxed than the typical Virgo. They are naturally happy and always look on the bright side. You are optimistic and cheerful. You make life seem simple and straightforward. On the whole, you are a caring and giving person. Your lucky colours are violet and the blue and the lucky number for you is 3.
This article has brought you today's astrological predictions for all the sun signs like Gemini, Scorpio, Leo, Taurus, Cancer, and others. Check out the astrological prediction for all zodiac signs.
Horoscope for September 12: Check today's astrological prediction
Daily ARIES Horoscope:
Your charismatic appeal will possibly reap rich dividends for you today. You will get much-needed support from big officials in the office. There is a possibility of an increase in income too. New avenues of progress will open in terms of money. There will be an inflow of money from unexpected sources. Students will do very well in their field today. You might meet someone special today. Your health will be upbeat. The colour Pink is lucky for you on this day.
Daily TAURUS Horoscope:
Today  If you start any work with the help of your siblings then you will definitely get success in it. You might also go to visit a religious place with the family. Your work in the office will be appreciated.  You should not give unsolicited advice to anybody in the family. You must also exercise restraint over your speech and tone. Your parents' health will require your attention.  Romantic alliances will be formed. Burgundy red is lucky for you today.
Daily GEMINI Horoscope:
A favourable day to put an end to all the doubts surrounding your ability to do well. Your go-getter attitude will be remembered by powerful people.  Before starting any work, it would be better to consult the elders of the house today. You will feel satisfied with your life and work. There will be an inflow of money from unexpected sources.  You will meet the person of your dreams today.  The lucky colour for you is Electric Grey.
Daily CANCER Horoscope:
It is quite possible that your personal life will take precedence over your professional life. You will have contact with someone who will solve any problem in your talk. This will make your mind happy.  Your health stars continue to be vulnerable. You must take proper care. Students will do very well in their studies. Love life is likely to get rejuvenated through your efforts. Cream is your lucky colour.
Daily LEO Horoscope:
Those of you with the family business to conduct should take a common-sense approach. Some of you may be invited to an important event. Long walks and light exercises will help some in keeping fit as a fiddle.  Some irritating habits of a lover can upset you. Saffron will prove lucky for you. You will certainly hear something good in your personal and professional sphere.
Daily VIRGO Horoscope:
A family member will be adamant to do things his own way that may not be to your liking. If you're travelling this week or making travel plans, then please leave nothing to chance. The company of the lover is likely to help you unwind and relax. The day is going to be great for the students. The colour Yellow will prove lucky for you today.
Daily LIBRA Horoscope:
There may be some deterioration in health today. Today, there is a possibility of increasing busyness in domestic work.  Today you should avoid any kind of laziness towards work. You may also feel some kind of tension.  The day will be fine for the students.  Your younger sibling may give you a surprise. In matters of the heart, it's family feelings which take first place.  Lavender is lucky for you.
Daily SCORPIO Horoscope:
Today there is a possibility of meeting an old friend. Any important work will be completed.  You will remain energetic and upbeat. Today your interest in social work will increase, which will also increase your reputation in society. You can take a break from your hectic work schedule to be with the family. A passionate evening is on the cards for those in love. Wear Cream for luck.  
Daily SAGITTARIUS Horoscope:
Sagittarius sign people will have too much work on their shoulders. Your friends and colleagues will help you in a major way there will be an inflow of money.  Students will get an appropriate result of their hard work Homemakers may want to try their hands on a work from home opportunity.  Travelling to meet someone special may seem lucrative today.  Avoid overdoing anything on the health front.  The company of the lover is likely to help you unwind Wear Golden Brown for luck.
Daily CAPRICORN Horoscope:
Today you will be full of new energy throughout the day.  You will get a chance to help someone in need. You will also benefit from this.  You may get success in everything if you talk calmly and politely. Take care of your health as a serious illness may trouble you.  You shine like a beacon in a sea of negativity. Saffron colour will prove lucky today.
Daily AQUARIUS Horoscope:
Today will be a day of progress in the field. Relationships with parents will improve. There will be love and harmony at home. You may buy an expensive item for your home or spouse. There are chances of an inflow of money from an unexpected source. You might give alms to poor people at a religious place. Your spouse will shower love and affection on you.  Resolving to get back in shape will be a priority today.  Wear Magenta for luck.
Daily PISCES Horoscope:
Today those who are looking for a job are likely to get a job in some good place.  Your partner will give you important advice and help you. Take care of your health as there are chances of getting cold and cough In love, you could be a little reserved, reluctant to show your true feelings. Exercise caution while using the road. The lucky colour for you today is violet.
ALSO READ: Daily Horoscope 2nd Sept 2021: Check Astrological Prediction For All Zodiac Signs